Banana Chocolate Chip Muffins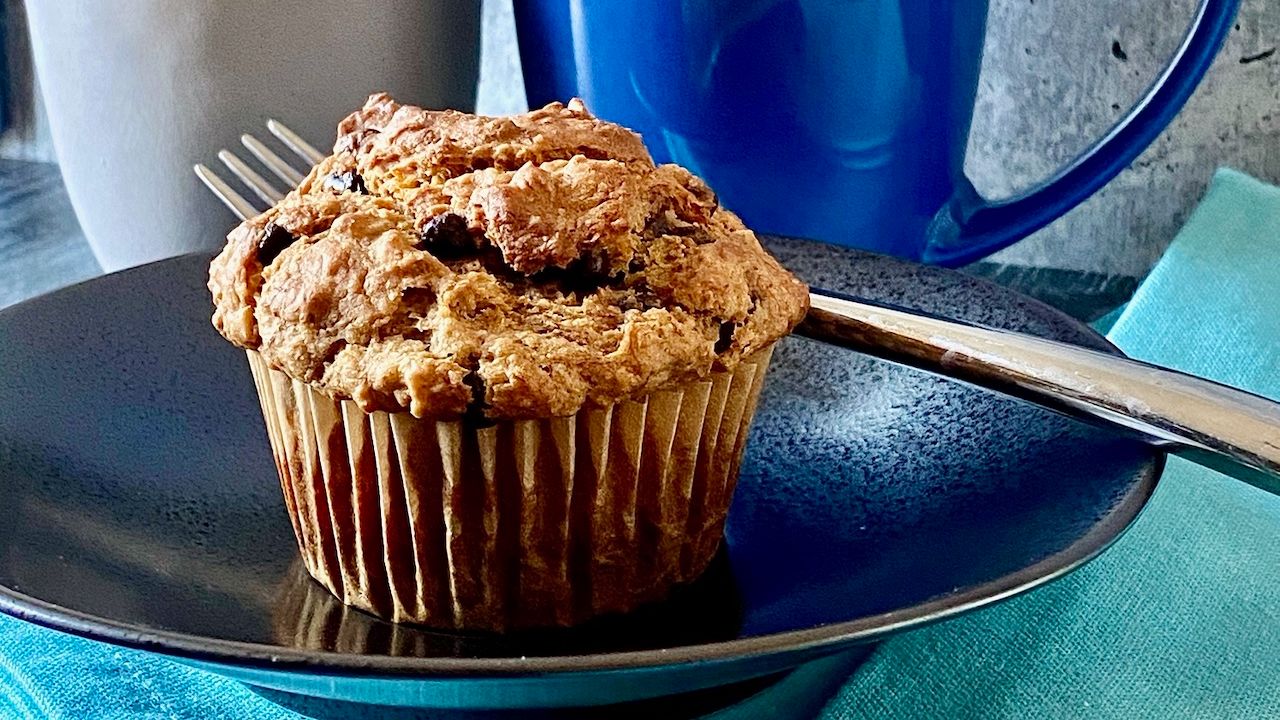 Have you arrived from YouTube? Welcome! Hope you love this recipe as much as I do. You'll find the full write-up below.
If you missed it, I've got a YouTube video that walks you through every step of how to make this simple, delicious recipe.
Click to watch, and then come back here to make this recipe at home yourself! (video will open in a new window)
Healthy Vegan Banana Chocolate Chip Muffins - A Whole Food, Plant-Based, Oil-Free Recipe
For Breakfast... or An Afternoon Snack with Tea
These muffins make a great portable breakfast to power your busy mornings, which makes this recipe a savvy weekend prep task.
Bake up a batch on Sunday, and have several mornings of breakfasts all ready to go, and/or munch on them as satisfying afternoon snacks.
Some of the links in this post are affiliate links, which means I'll earn a very small commission when you make a purchase through my link, at no additional cost to you. I appreciate your support!
Let's get started:
Ingredients
1 cup "old fashioned" rolled oats (not steel cut, not Irish, not instant)
1 cup plain, unsweetened almond milk (more as needed)
1 Tbsp apple cider vinegar
1 Tbsp ground flax seed ("flax seed meal") or ground chia seed
3 Tbsp water (increase to

¼ cup water if using ground chia)

1 cup whole wheat flour

½ cup oat flour

½ cup almond flour
2 tsp baking powder

¼

tsp salt
1 tsp cinnamon
3 ripe bananas
¼ cup full-fat canned coconut milk

½ cup dairy-free mini chocolate chips
Instructions
1. Preheat the oven to 375 degrees F. Drop parchment baking cups (cupcake liners) into the 12 wells of a standard muffin tin. If you don't have liners, no worries. Grease the wells of the muffin tin with a neutral-flavored oil instead.
4. In a small bowl, combine 1 cup rolled oats with 1 cup plain, unsweetened almond milk and 1 Tbsp apple cider vinegar. Stir it all together and set aside.
5. Now we'll make what's known as a "flax egg." When you combine ground flaxseed or ground chia seed with water, it forms a gel that helps hold all the ingredients together, in place of an egg in traditional baking, so the muffin doesn't crumble apart so easily.
If you start with whole flax seed, you can grind it yourself in a NutriBullet blender. If you bought your flax or chia pre-ground, you can skip to the next step.
Place the ground flax or ground chia in a very small bowl and add 3 Tbsp water (¼ cup of water if you're opting to use ground chia).
Whisk it together with a fork, and then set it aside to allow it to form a gel.
6. Take out a large mixing bowl and combine all the dry ingredients together. Start with the 1cup whole wheat flour, ½ cup of oat flour, and ½ cup almond flour. Add the 2 tsp baking powder, ½ tsp salt, and 1 tsp cinnamon.
7. Stir all the dry ingredients together thoroughly. Then make a well in the center. The well is where the wet ingredients will go.
8. Peel and mash the bananas with a fork. Stir and continue mashing until they resemble the consistency of applesauce.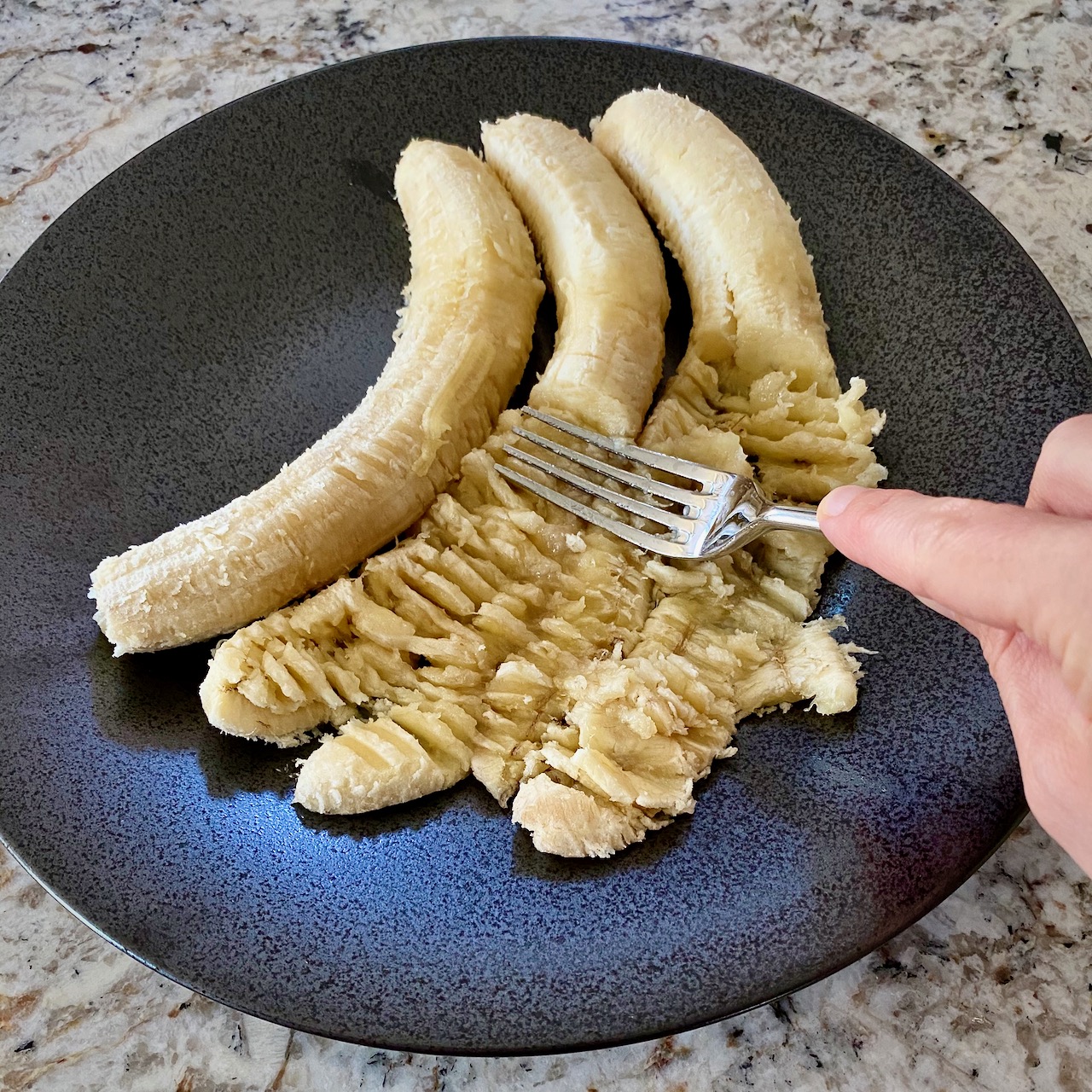 9. Transfer the oats + almond milk + cider vinegar mixture to the well you made in the dry ingredients. Then add the flax (or chia) mixture.
10. Add the mashed banana and ¼ cup coconut milk.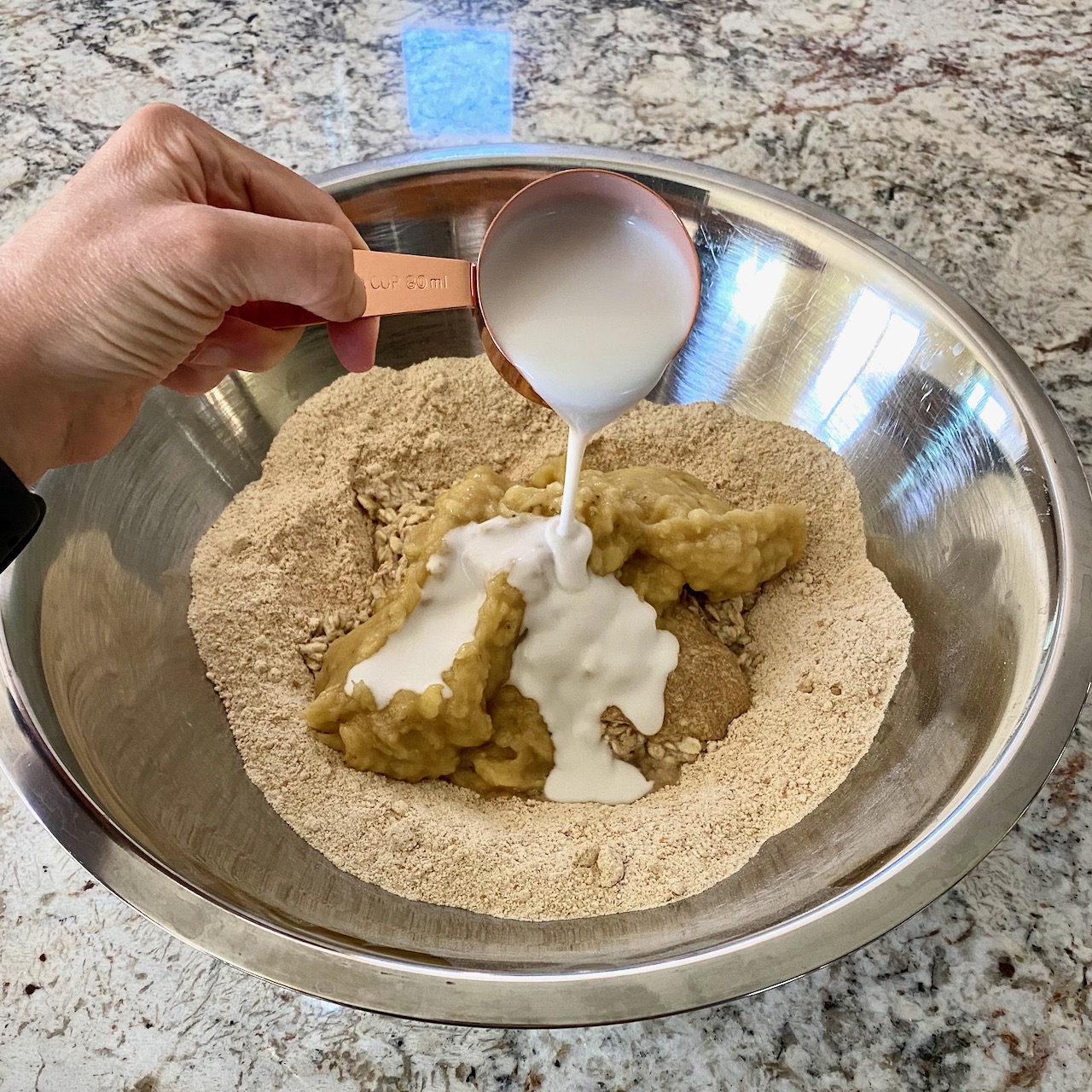 11. Begin stirring the wet ingredients together first, avoiding the dry ingredients for now.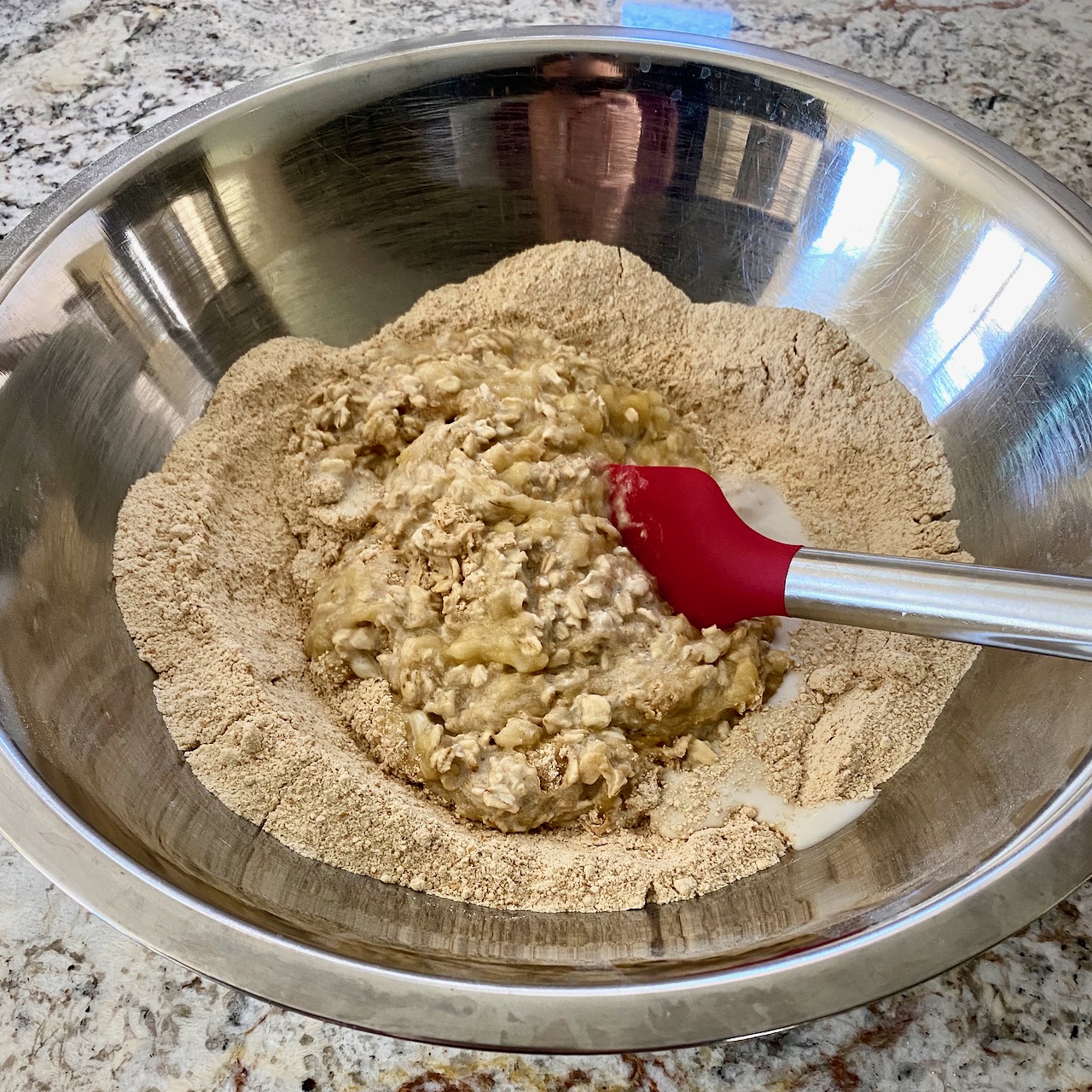 12. Once the wet ingredients are mostly combined, then gradually incorporate the dry ingredients. If it's a bit thick, you can add a splash or two of almond milk, so that the batter is wet enough to fold in the dairy-free mini chocolate chips next.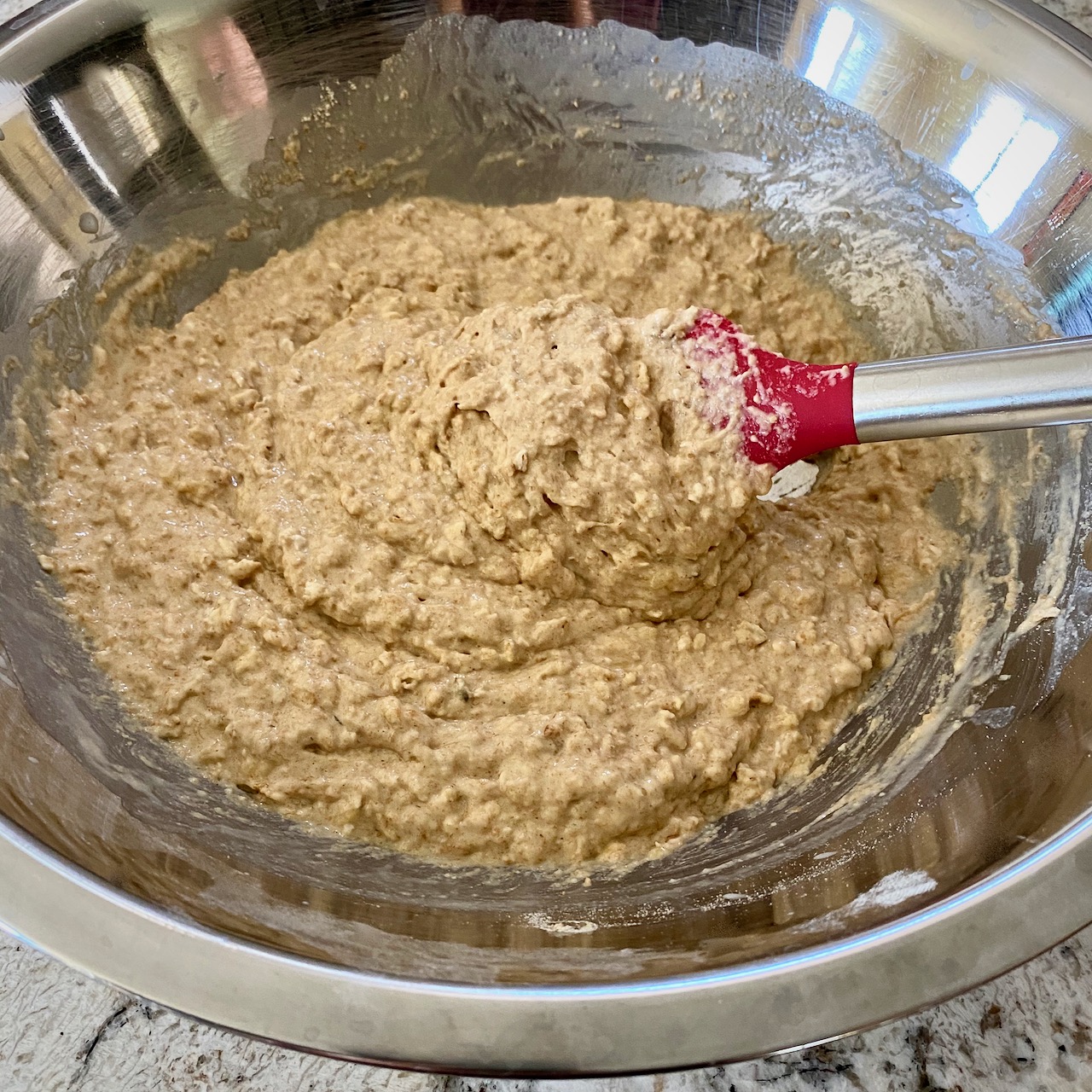 13. Add the chocolate chips to the batter.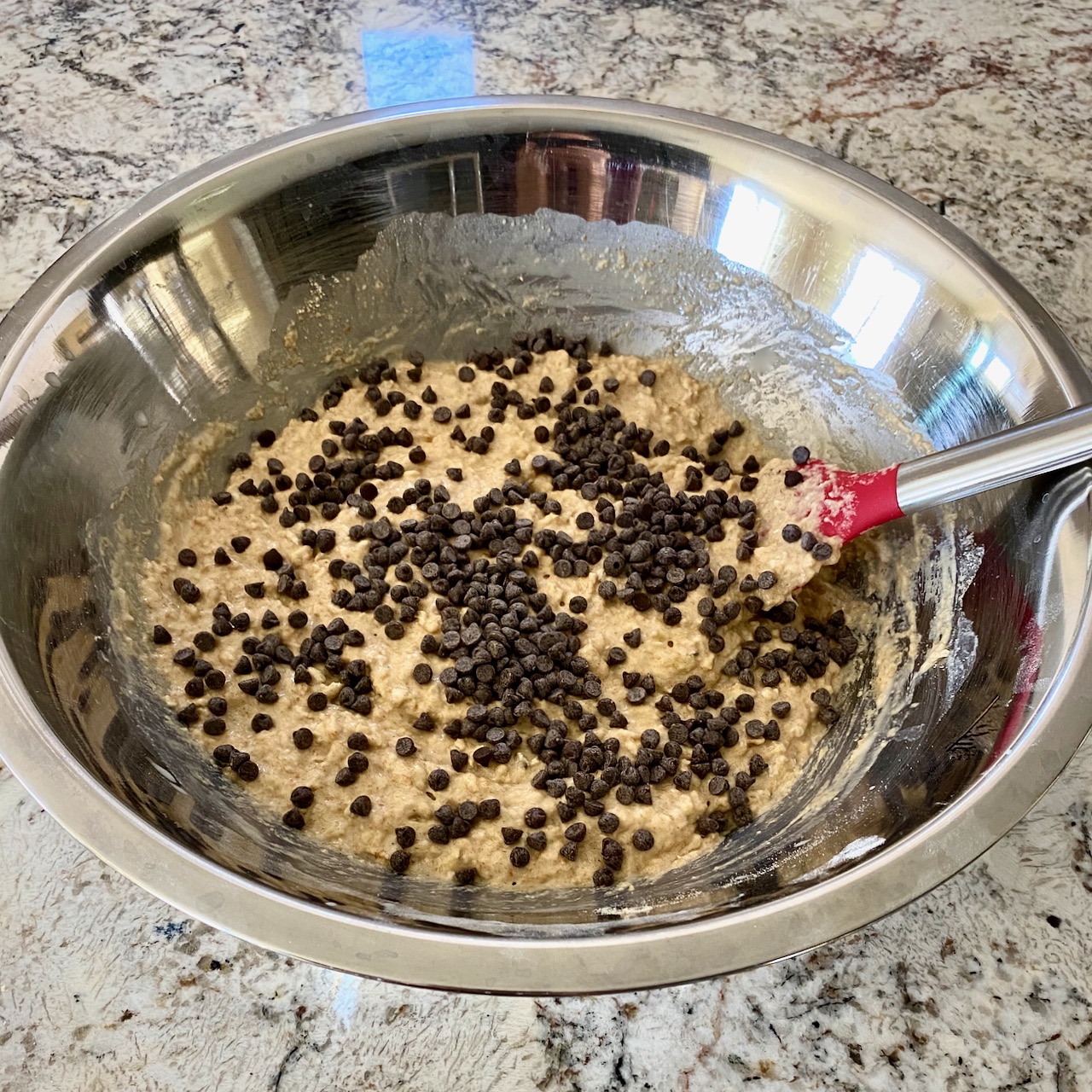 14.Fold them in until they're incorporated throughout. Try to do this without over-mixing. When the batter is ready, it'll look something like this: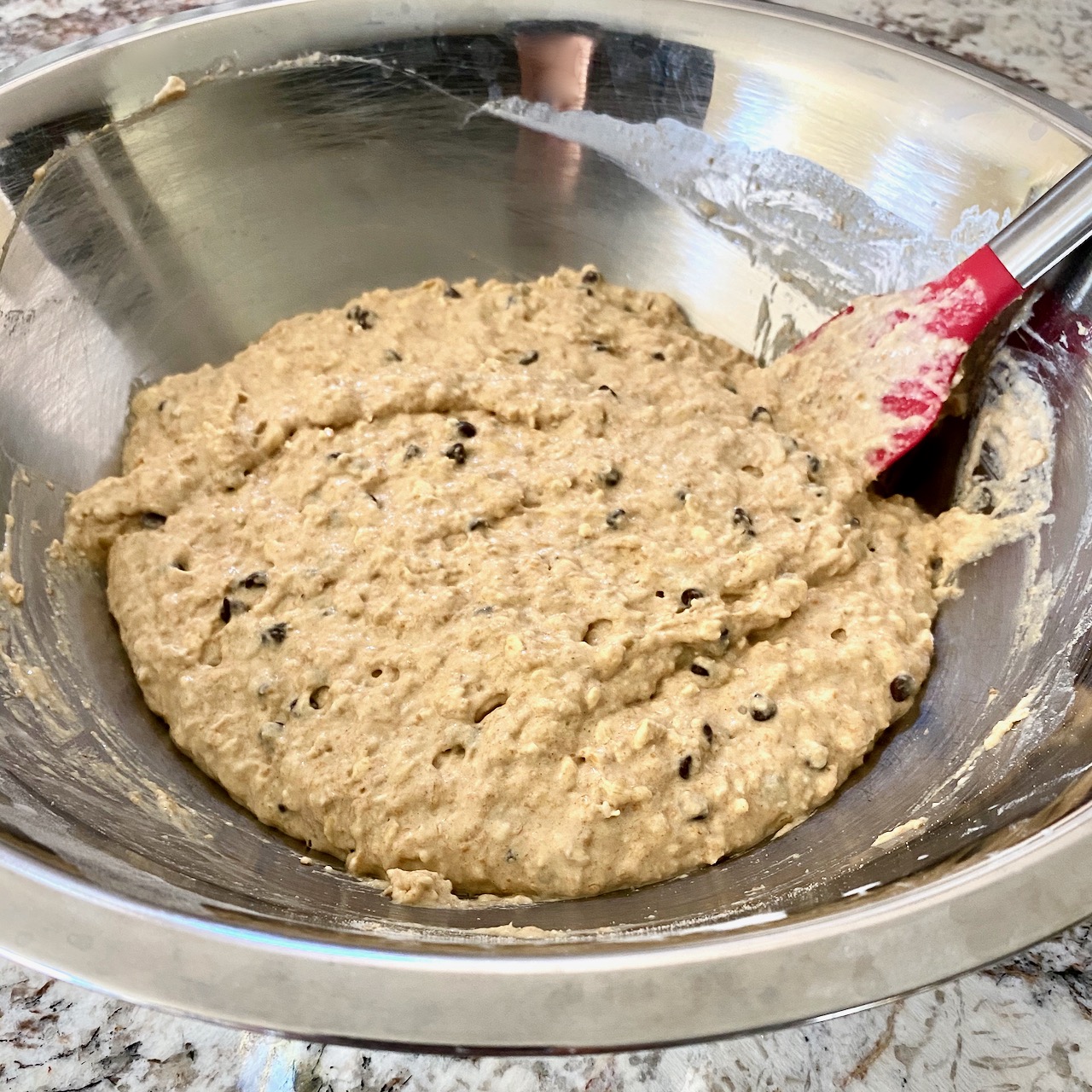 15. Using a soup spoon and a small silicone spatula, distribute the batter evenly among the 12 wells of the prepared muffin tin.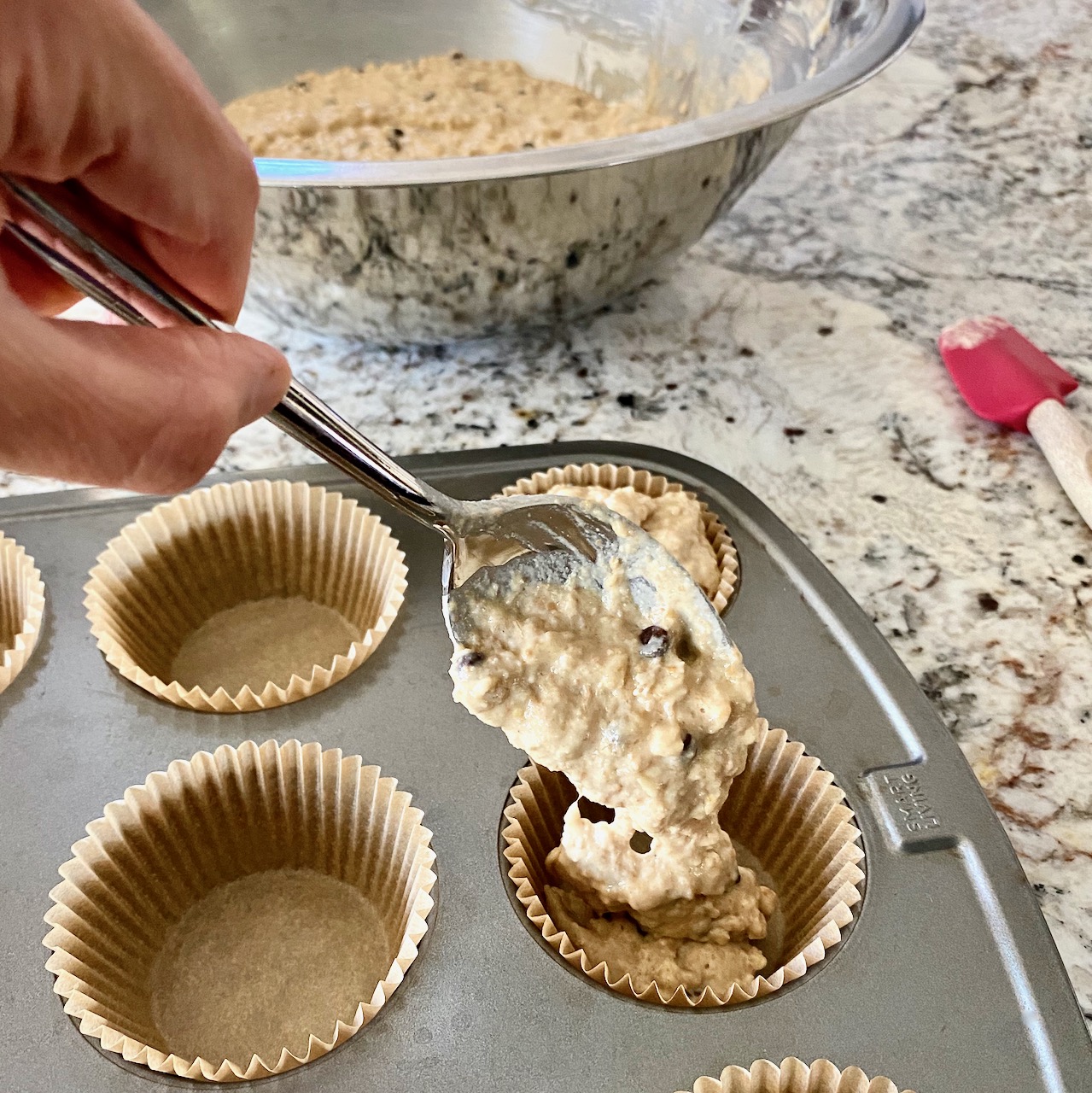 16. Slide the pan into the preheated oven and set a timer for 33 minutes.
17. When the muffins are done, they will be golden on the outside, and a toothpick pressed into the center of one should come out dry. Allow the pan to cool for 10 minutes after you remove it from the oven.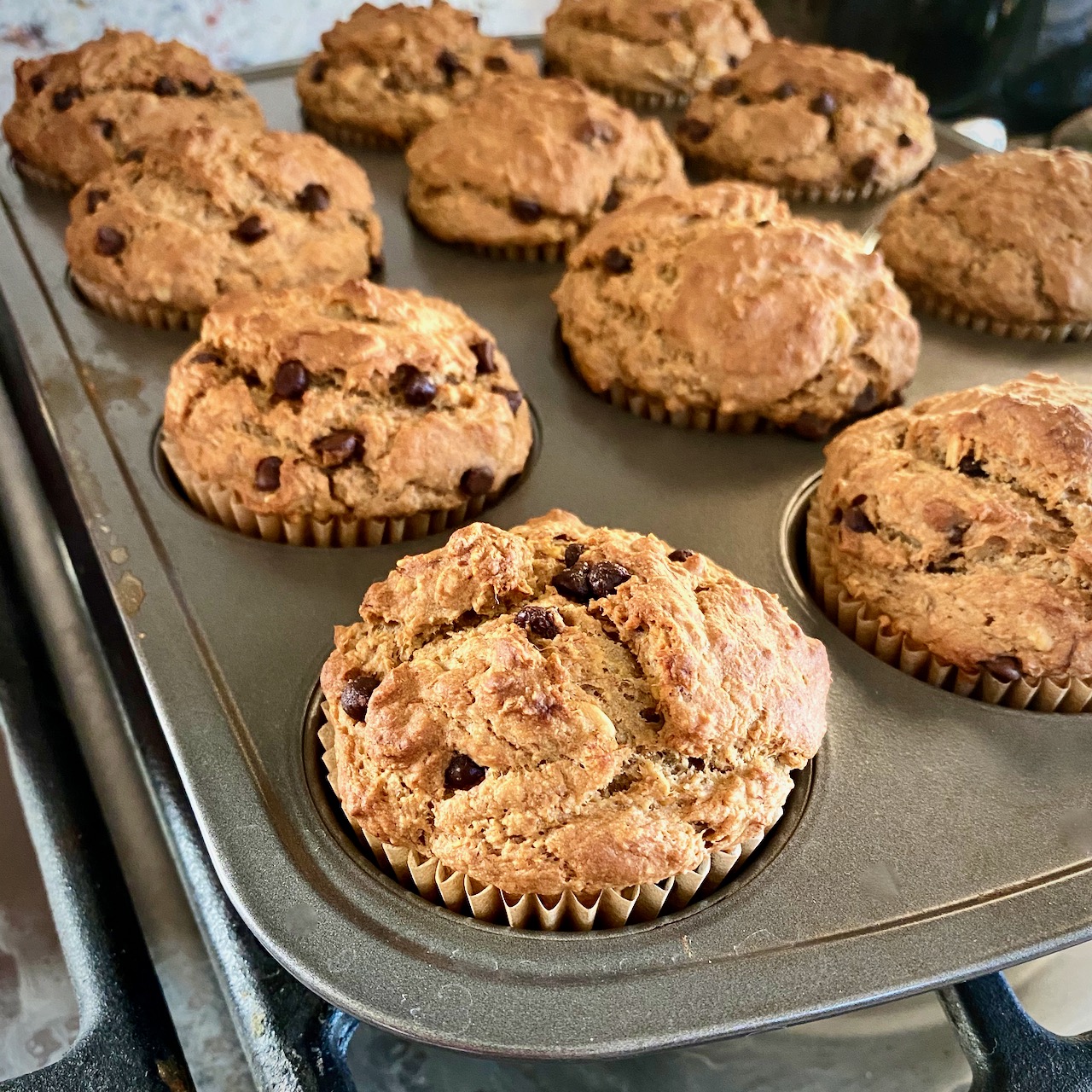 18. Transfer the slightly cooled muffins to a wire cooling rack.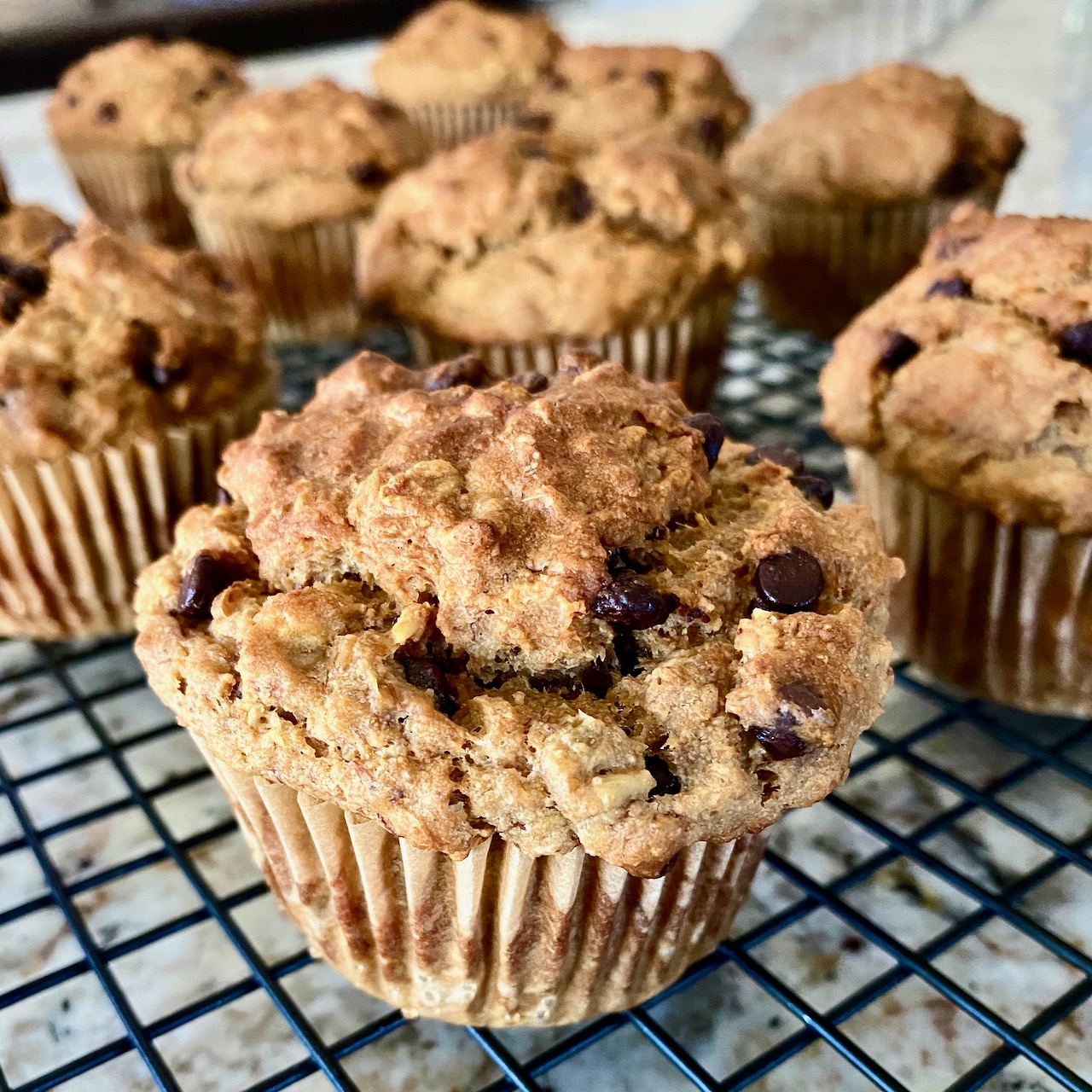 19. Once the muffins are completely cool, which should take another 10-15 minutes, they'll be ready to eat.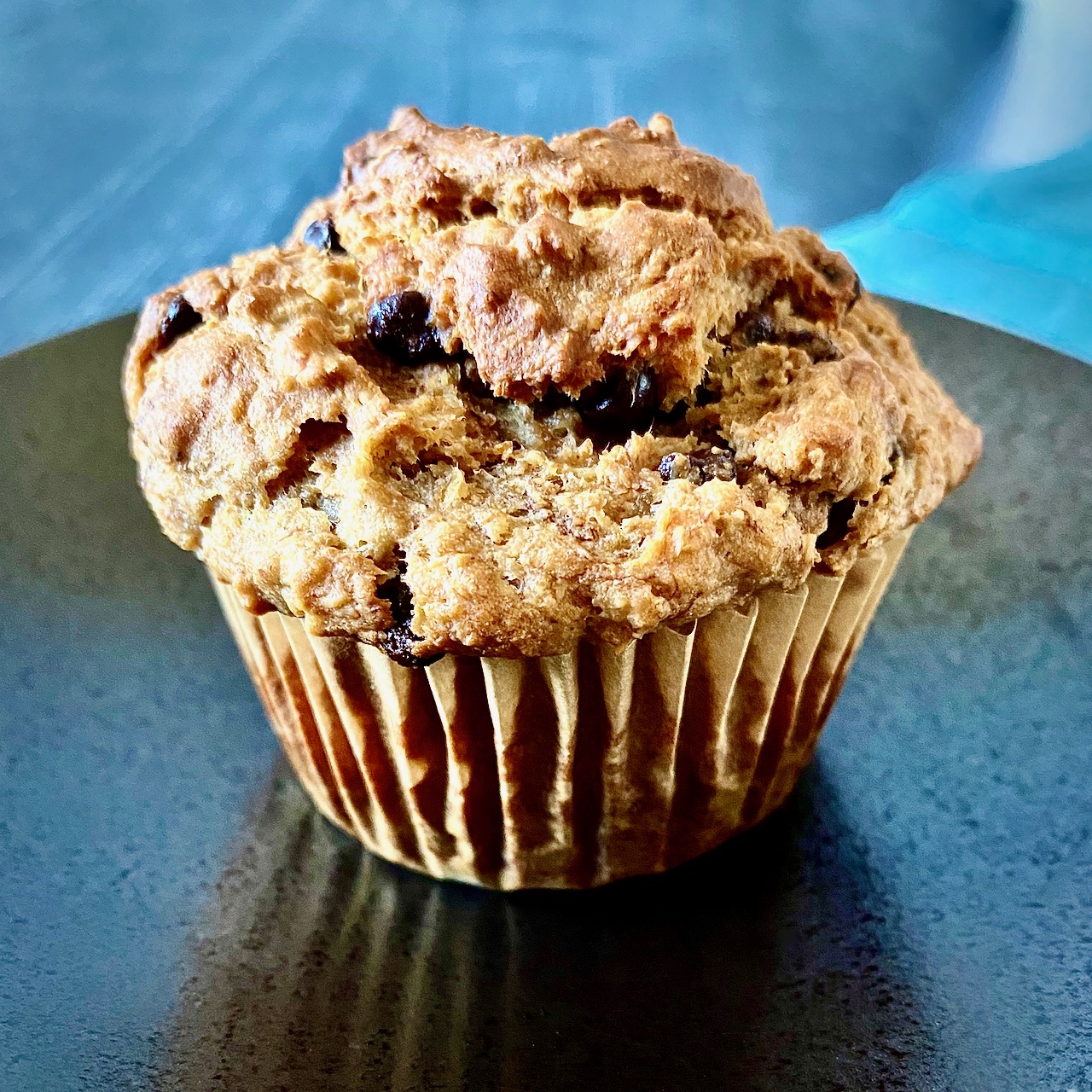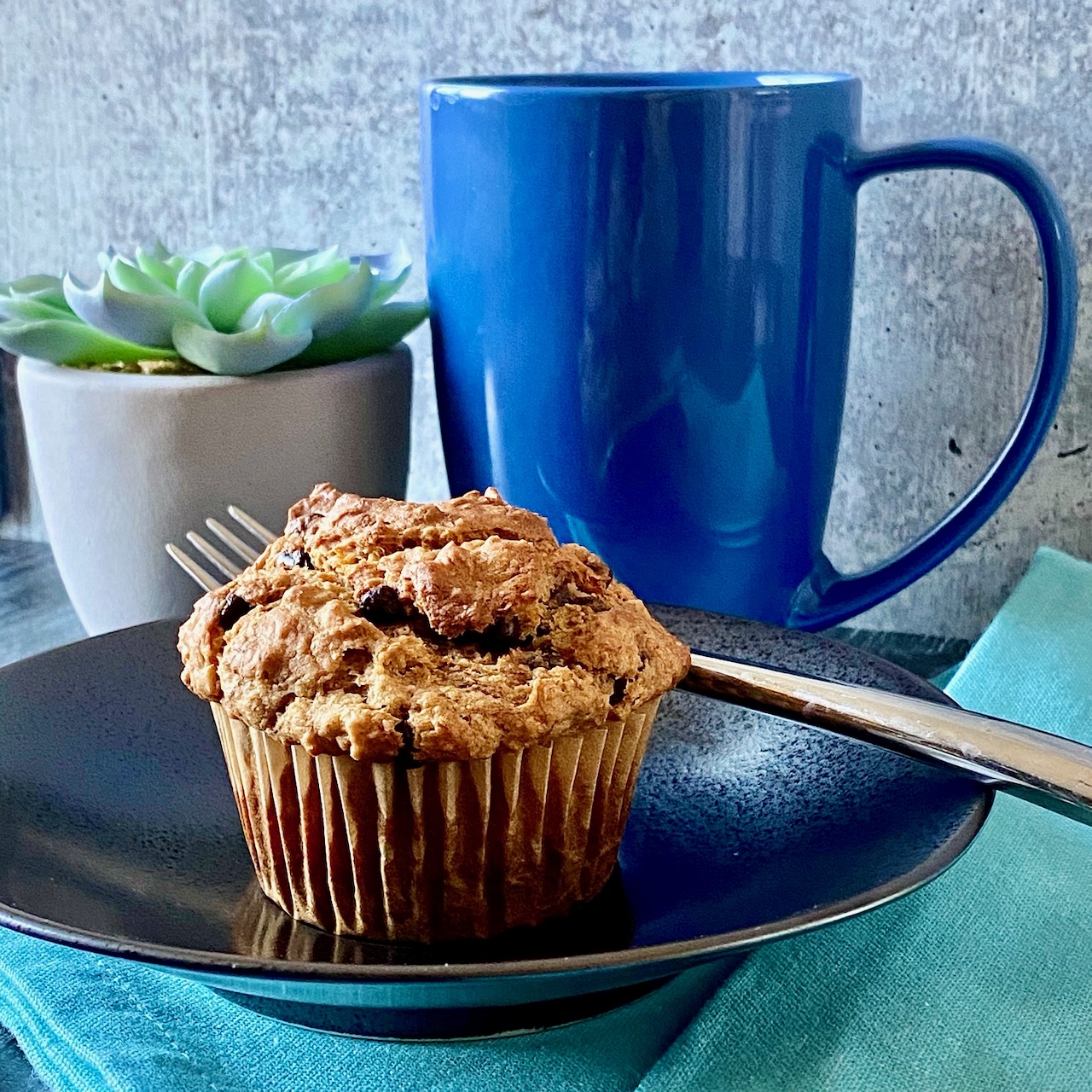 Serve and enjoy!
Note: Store your leftover muffins in an airtight container in the fridge. Home-baked goods don't contain the preservatives that store-bought treats do (the ones that keep them shelf-stable), so refrigerate the muffins to help them last until you're ready to enjoy them.
If they aren't fresh from the oven when you want to eat them, giving them a quick toast in the toaster oven is an excellent idea. I like to cut them in half or quarters, and then run the toaster for a couple of minutes. Enjoy! They're great with hot tea.
What's Healthy About This Recipe?
Rolled oats are an excellent source of plant-based protein. They also contain a lot of iron, Vitamins A and B6, magnesium and dietary fiber.
Flaxseed is high in fiber and omega-3 fatty acids. It's known to lower LDL ("bad cholesterol"), which can reduce the risk of heart disease, and it is the highest dietary source of lignans, which are phytoestrogens known for their help in preventing breast and prostate cancers and prolonging the life of those diagnosed with breast cancer.
Almond flour, which is finely ground almonds, is big on protein, as well as magnesium, calcium, potassium and iron.
These muffins are sweetened only by the bananas, and of course the dairy-free mini chocolate chips, so there is very little refined sugar, and no oil in this recipe. Compared to other muffins, these are a great choice for a healthy snack or breakfast.