Banana Walnut Bites
Hot Tip
I say this a lot, but I'll reiterate it again here.
In my opinion, one of the best weekend food prep tasks you can do is bake a batch of healthy snacks to grab when you feel hungry on busier weekdays.
This healthy Banana Walnut Bites recipe fits the bill. It's made entirely of whole food, plant-based ingredients. It's also gluten-free, oil-free, and contains no added sugar.
In fact, it's sweetened entirely by fruit. And yet, it's so delicious, no one would ever guess!
It's also very high in plant-based protein, so it doubles as an excellent post-workout snack.
When you have something like this on hand, you're much less likely to grab junk food when you hit a mid-afternoon slump.
And that's exactly what we're going for -- to set ourselves up for the highest chance of success in taking good care of ourselves.
Bake Yourself Happy
Personally, I love baking. It's one of my favorite weekend activities.
But even if you don't entirely share my passion for it, there's really no denying that baking something wholesome on the weekend is a gift to your future self, even if the "future" in this case is just a few days away.
I'm excited for you to try these Banana Walnut Bites! When you do, please message me on Instagram @greensagelife and let me know what you think. Better yet, post a photo and tag me! I'd love to cheer you on.
Some of the links in this article are affiliate links. If you make a purchase through my link, I'll receive a small commission at no additional cost to you. Thank you for your support!
Ingredients
1 Tbsp ground flaxseed or ground chia seed
3 Tbsp water

½ cup rolled oats

¼ cup almond flour
½ cup powdered peanut butter (PB2 brand is the tastiest)
½ cup vanilla plant-based protein powder (Truvani brand is my favorite)
3 ripe bananas, mashed (about 1

¼ cup after mashing)

¼ cup plain, unsweetened almond milk (or other plant-based milk of choice)

¼ cup raw walnuts, chopped

¼ cup cacao nibs
Instructions
Preheat your oven to 350 degrees F, and line a baking sheet with a silicone baking mat or parchment paper.
In a small bowl, combine 1 Tbsp ground flaxseed (or ground chia) and 3 Tbsp water. Whisk with a fork and set aside to congeal and form a "flax egg."
In a large mixing bowl, combine the dry ingredients:
½ cup rolled oats

¼ cup almond flour
½ cup powdered peanut butter (PB2)
½ cup vanilla plant-based protein powder
Stir the dry ingredients together until uniformly mixed.
On a plate, mash the ripe bananas with a fork.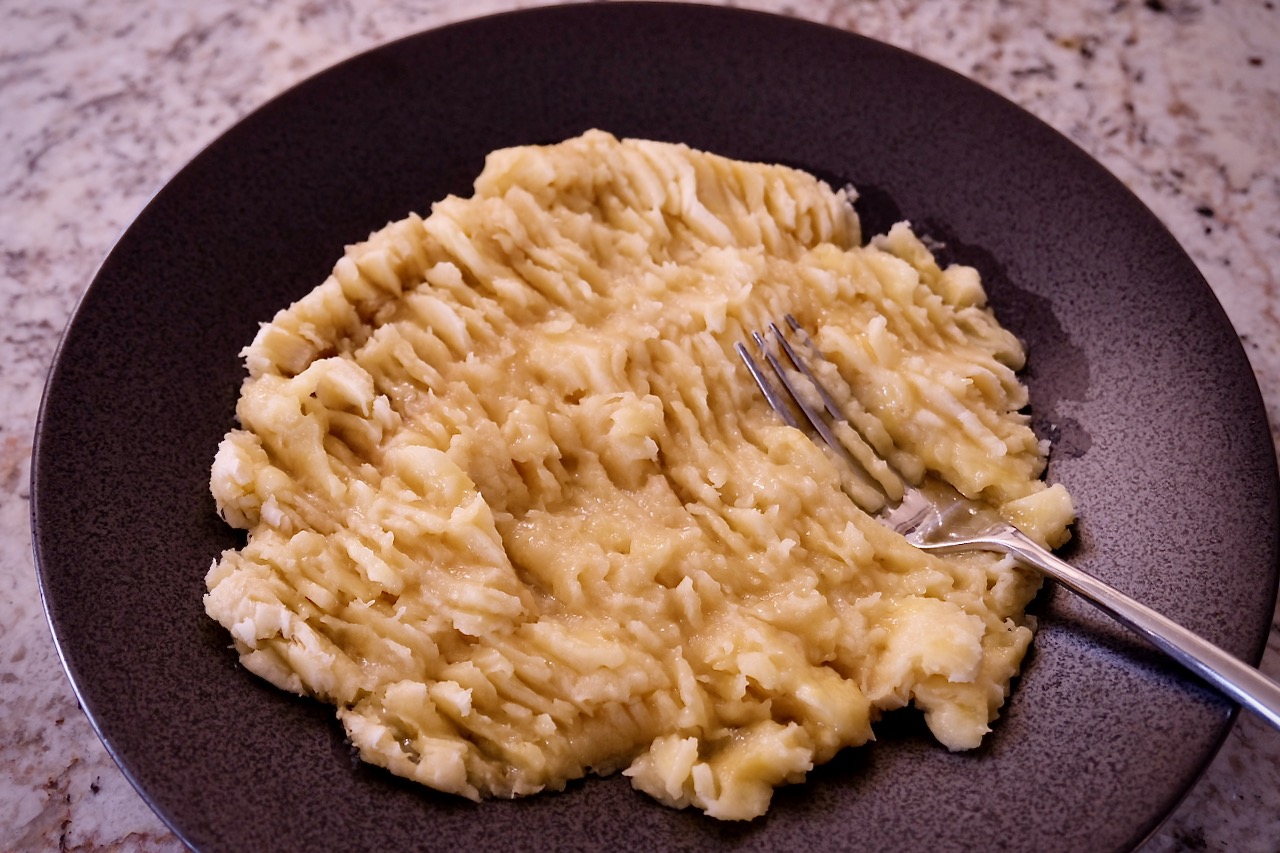 Form a well in the center of the dry ingredients, and transfer the mashed bananas, almond milk, and the flaxseed (or chia seed) mixture into the well.
Mix the wet ingredients together, and then gradually incorporate them into the dry ingredients, until you have a batter that resembles thick muffin batter. If necessary, add a tablespoon or two of water or more almond milk to the mixture to bring everything together.
Fold in the chopped walnuts and cacao nibs, and stir until evenly mixed.
Use a melon baller or a couple of spoons to form bite-sized mounds of batter on your prepared baking sheet. Space them evenly on the sheet, but they don't have to be very far apart, because they will not melt or spread in the oven.
Note: My melon baller is about 1 scant Tbsp in volume, and so this recipe yielded about 42 protein bites. If you don't have a melon baller, you can use a 1 Tbsp measuring spoon and roll the batter with wet hands to form balls.
Slide the pan into the oven and bake for 28 minutes, or until golden and browning a little bit around the edges.
Allow the pan to cool completely before removing the Banana Walnut Bites from the baking mat or parchment paper.
They make an excellent snack with tea!
Enjoy!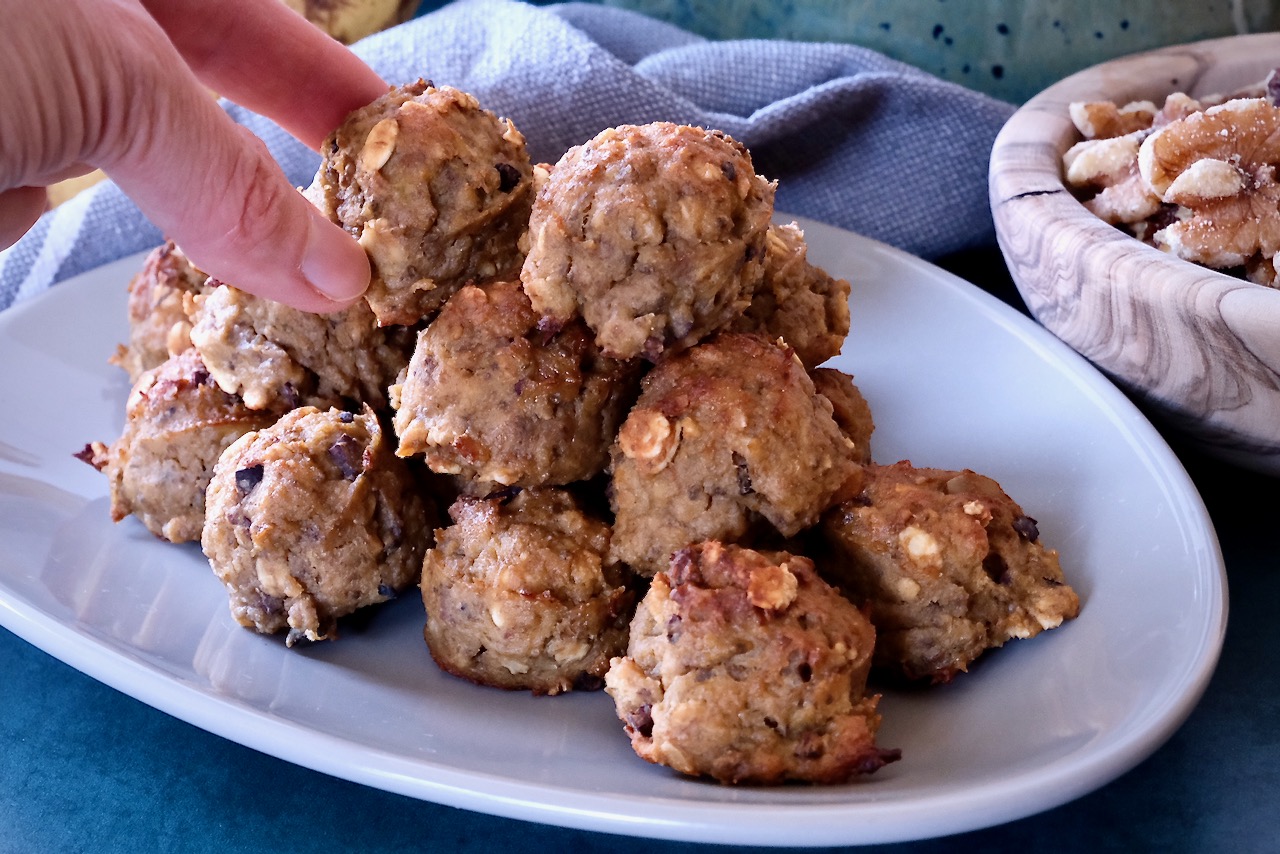 Macros
I'm not a macro counter myself, but for those of you who are here for the post-workout protein and would like to know, 3 of these Banana Walnut Bites contain about 106 calories and 6.4 grams of plant-based protein (12g of carbohydrates, 2.9g of fiber, 4.4g of fat).
Leftovers
Store remaining protein bites in an airtight container in the fridge for up to 5 days.
Hungry for more?
If you like this recipe, you might love to drop into one of my live virtual plant-based cooking classes.
Be sure you're part of my email community so you'll always be in the know when enrollment opens for the next class.
They're lots of fun and I'd love to see you there!