Thai Green Curry with Vegetables and Tempeh
This is one of my favorite weeknight meals!
My Thai Green Curry with Vegetables & Tempeh is packed with a rainbow of fresh veggies, it's got ample plant-based protein, and it's super delicious and flavorful.
It also happens to be whole food plant-based and oil-free, with a gluten-free option.
You're gonna love it.
Most of the work for this dish is in the chopping; everything else is really simple. In fact, once the prep work is done, the whole thing comes together in just a few minutes.
I'll be showing you a very souped-up version of this recipe below.
However, please feel free to customize it with whatever you happen to have on hand. You can simplify it significantly by choosing only a few vegetables.
But if you do go all out, like I've done here, it also makes an awesome dish to serve to dinner guests.
Have you arrived here from YouTube? If so, welcome!
If you missed it, you can watch me make this whole recipe (and see how I did all the chopping) in my YouTube video.
Click below to watch (the video will open in a new window), and then return here afterward to reference the ingredient quantities and instructions.
Don't forget to like the video and subscribe to the channel, too!
Ingredients
Note: Some of the links in this article are affiliate links. If you make a purchase through my link, I'll receive a small commission at no additional cost to you. Thank you for your support!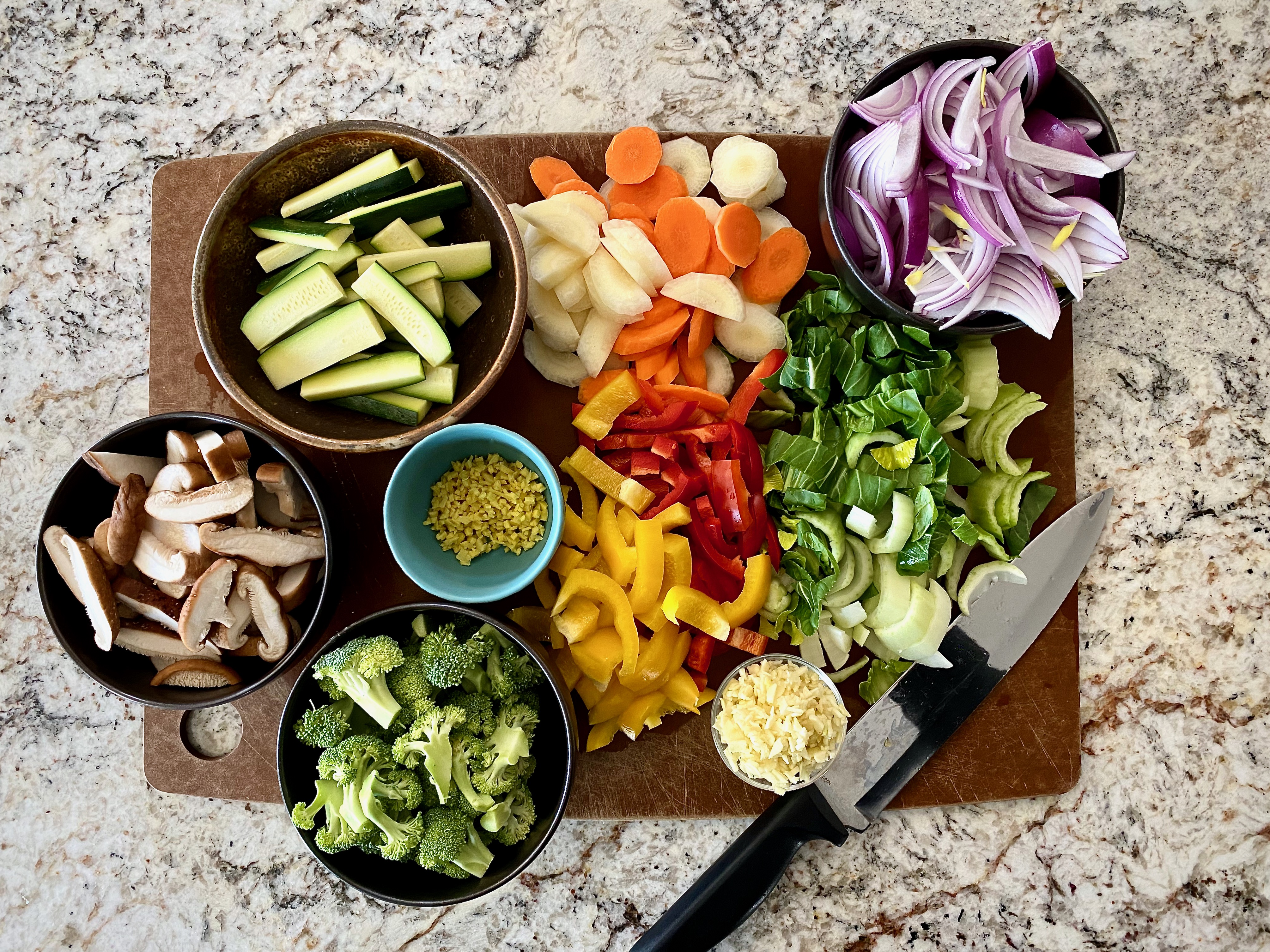 This recipe yields 4 servings. Nutrition info is provided below.
Feel free to use as few or as many of these vegetables as you want; it'll still be delicious and the method will still be the same.
1 cup brown basmati rice
8 oz tempeh, diced into small cubes
2½ cups vegetable broth, divided
1 red onion, sliced into crescents
1 Tbsp fresh ginger, peeled and minced
4 large cloves of garlic, minced (or more if you love garlic)
1 cup sweet potato or regular potato, diced small
1 bell pepper (any color), sliced into bite-sized strips
2 cups broccoli florets
2 medium carrots, peeled, sliced
3.5 oz (about 2-3 cups) shiitake mushrooms, sliced
1 medium zucchini, sliced into thin spears
1 medium baby bok choy, sliced (about 2-3 cups)
½ cup lite coconut milk
3 Tbsp low-sodium soy sauce (or tamari or coconut aminos for a gluten-free option)
4 Tbsp Thai green curry paste
2 Tbsp lime juice
¼ tsp red pepper flakes (optional), or to taste
1½ tsp Trader Joe's Umami Seasoning Blend or similar spice blend
⅓ cup raw peanuts (or cashews), roughly chopped if desired
¼ cup fresh cilantro, chopped
Instructions
Hot tip: If you'd like, you can do all the chopping for this dish in advance on the weekend. Then just refrigerate the prepped veggies in food storage containers until you're ready to make the recipe on a busier weeknight, at which point it'll come together in a snap.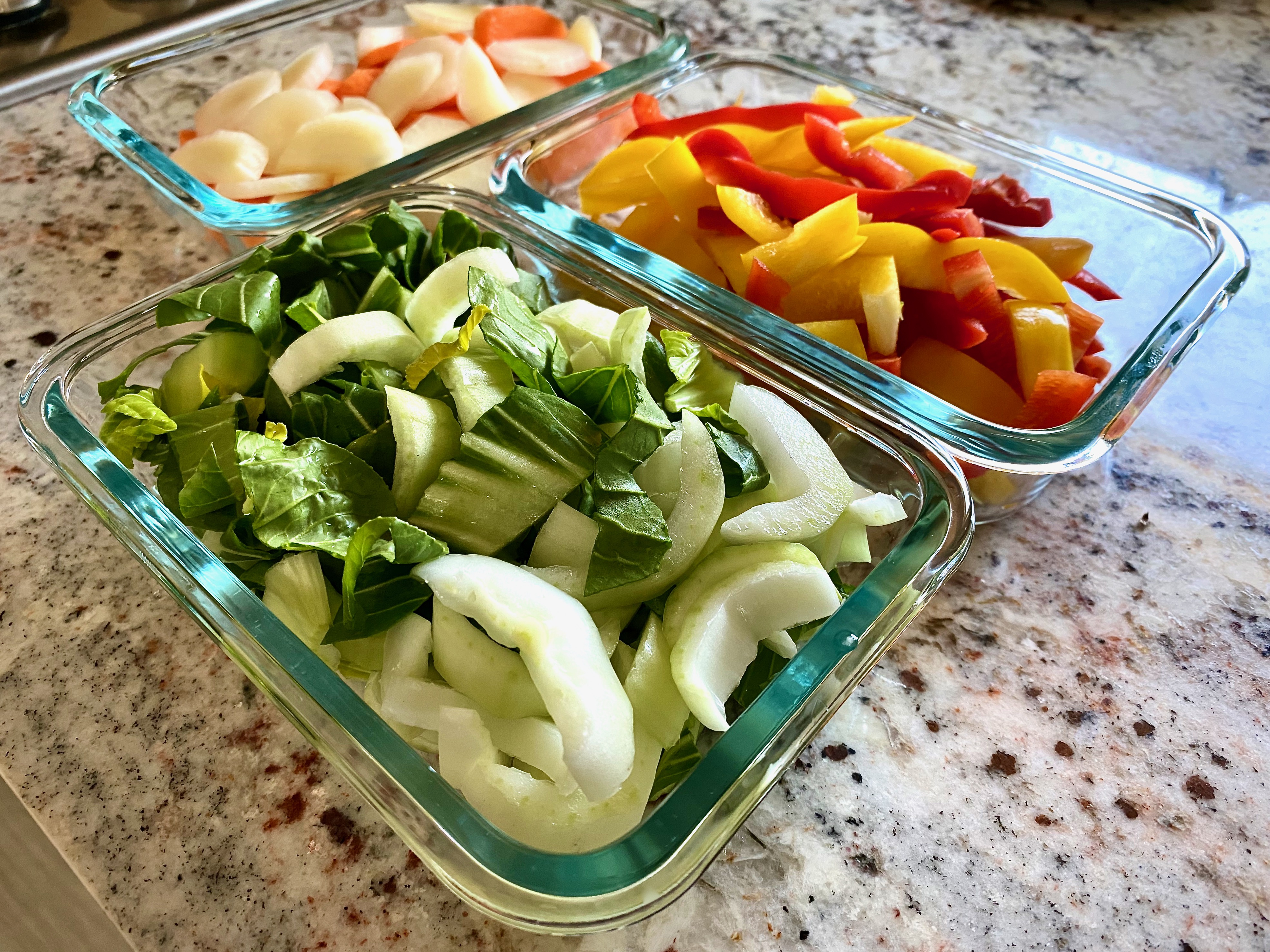 Optional Preliminary Steps
There are a couple of optional steps you can having going on the side while you make the curry.
First is to cook some brown basmati rice in a saucepan according to package instructions, to serve with the curry.
Once cooked, set it aside, covered to stay warm, until the curry is also ready.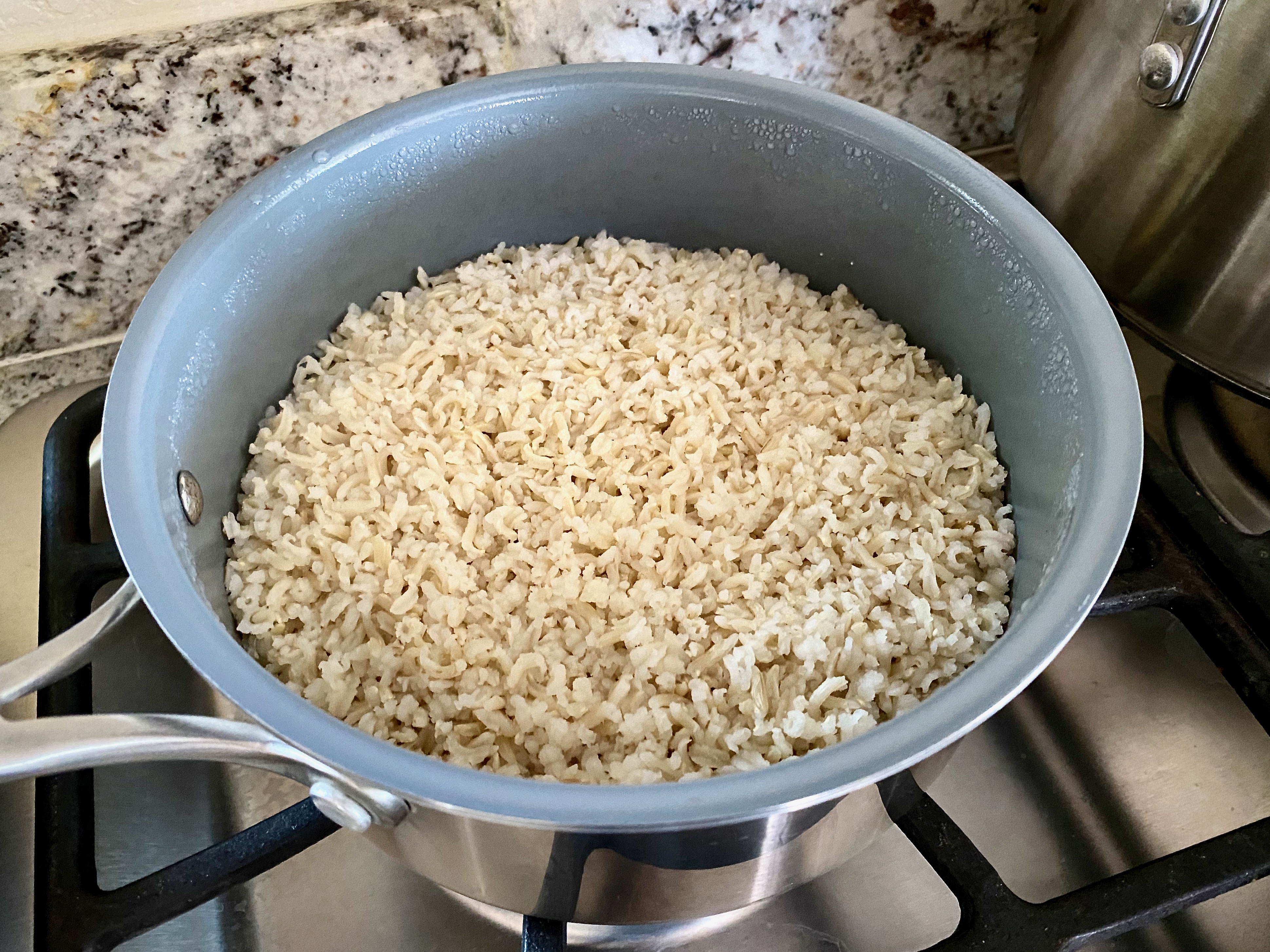 The second optional step is to steam your tempeh. You certainly don't have to, but here are the benefits if you do:
Steaming softens the tempeh and opens it up to absorb more of the delicious simmer sauce we'll make
Steaming also takes the edge off the natural bitterness of the tempeh, making it a bit more enjoyable
However, you can skip the steaming if you wish, and just add the diced tempeh to the pan along with the simmer sauce later, as noted below.
To steam the tempeh, simply place the cubes into a steaming basket over simmering water, covered, for 10 minutes, then set the steamed tempeh aside until you're ready for it.
OK. Let's make the curry!
In a large sauté pan or wok, heat a few Tbsp of vegetable broth over medium-high heat. Add the sliced onion and stir until softening.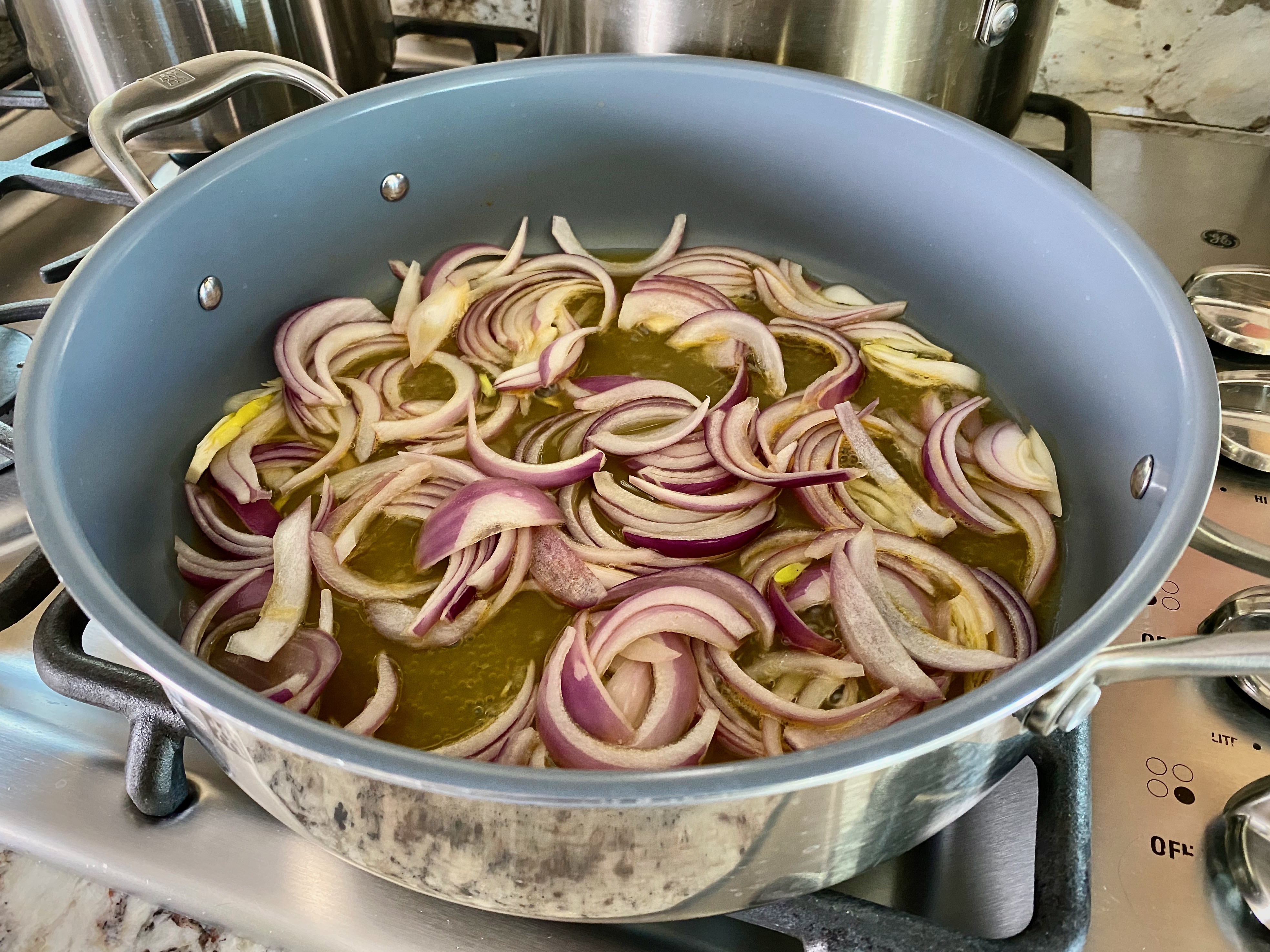 Add the minced ginger and garlic, and stir until fragrant.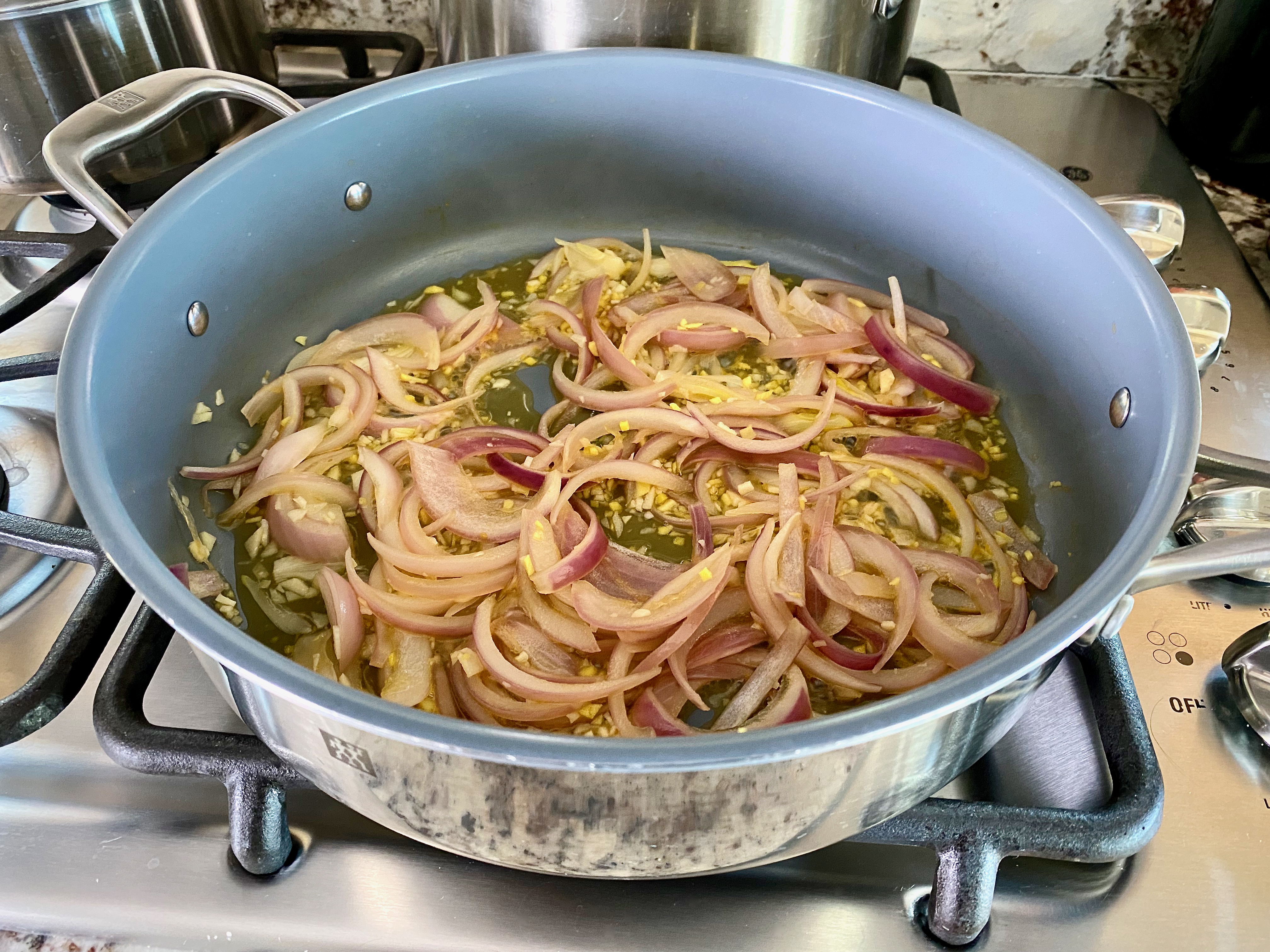 If you're adding sweet potatoes or regular potatoes to your version of this dish, they'll go in next because they take the longest to cook and we want to give them a head start.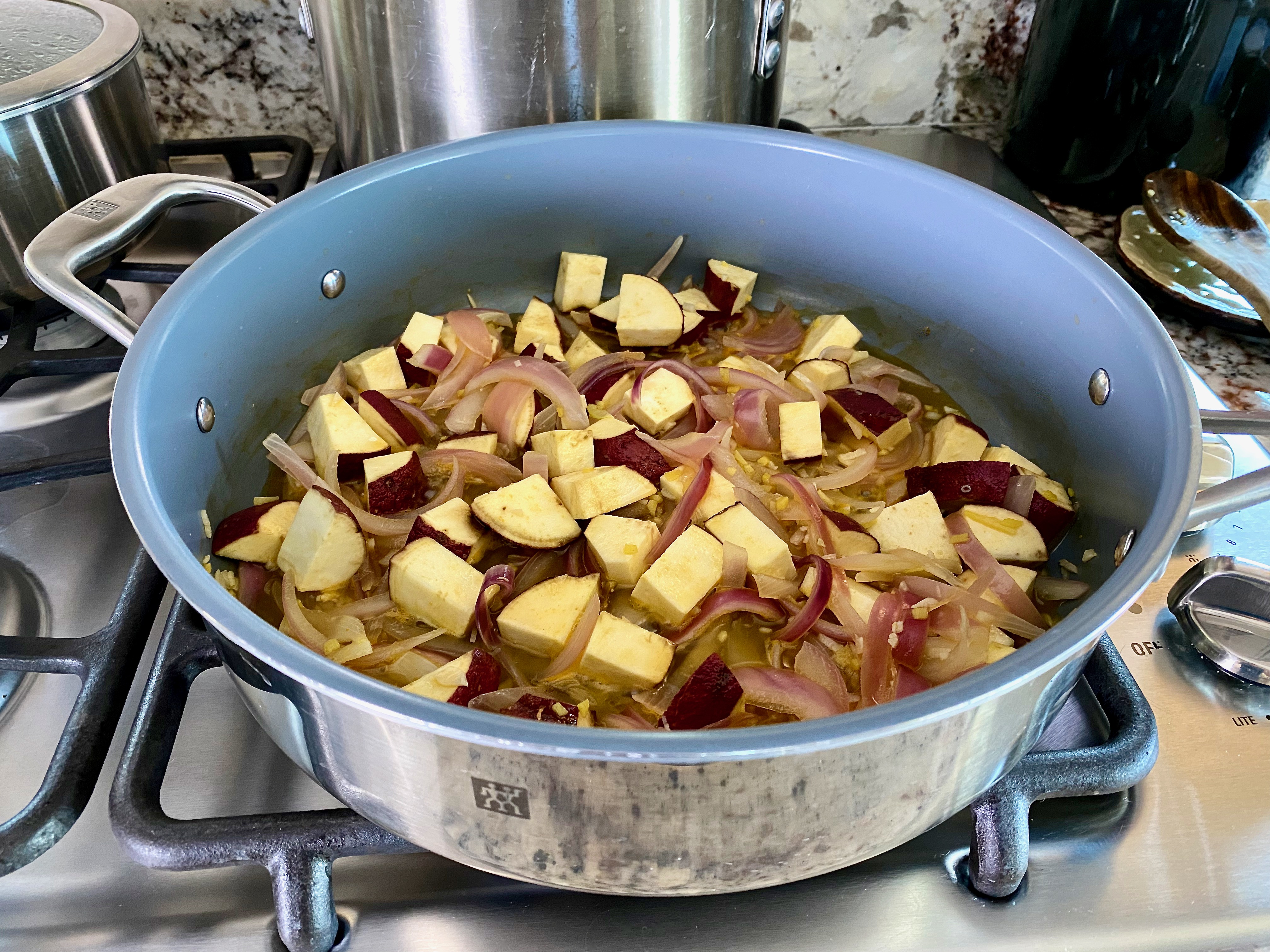 Note: I'm using Japanese sweet potato here (purple on the outside, white on the inside) but you can use any variety of sweet potato or regular potato).
Add a splash more vegetable broth, then cover the pan and steam the potatoes for 5-8 minutes, stirring occasionally.
Hot tip: Put on your favorite music and have a kitchen dance party while you wait. Might as well have fun at this, right?
Once the potatoes have softened quite a bit, we can add the other vegetables.
We'll add them to the pan in order of how long they take to cook. In other words, hardier vegetables go in first. So in this case, that means the carrots, broccoli florets, and bell peppers are next. You can add them all at once.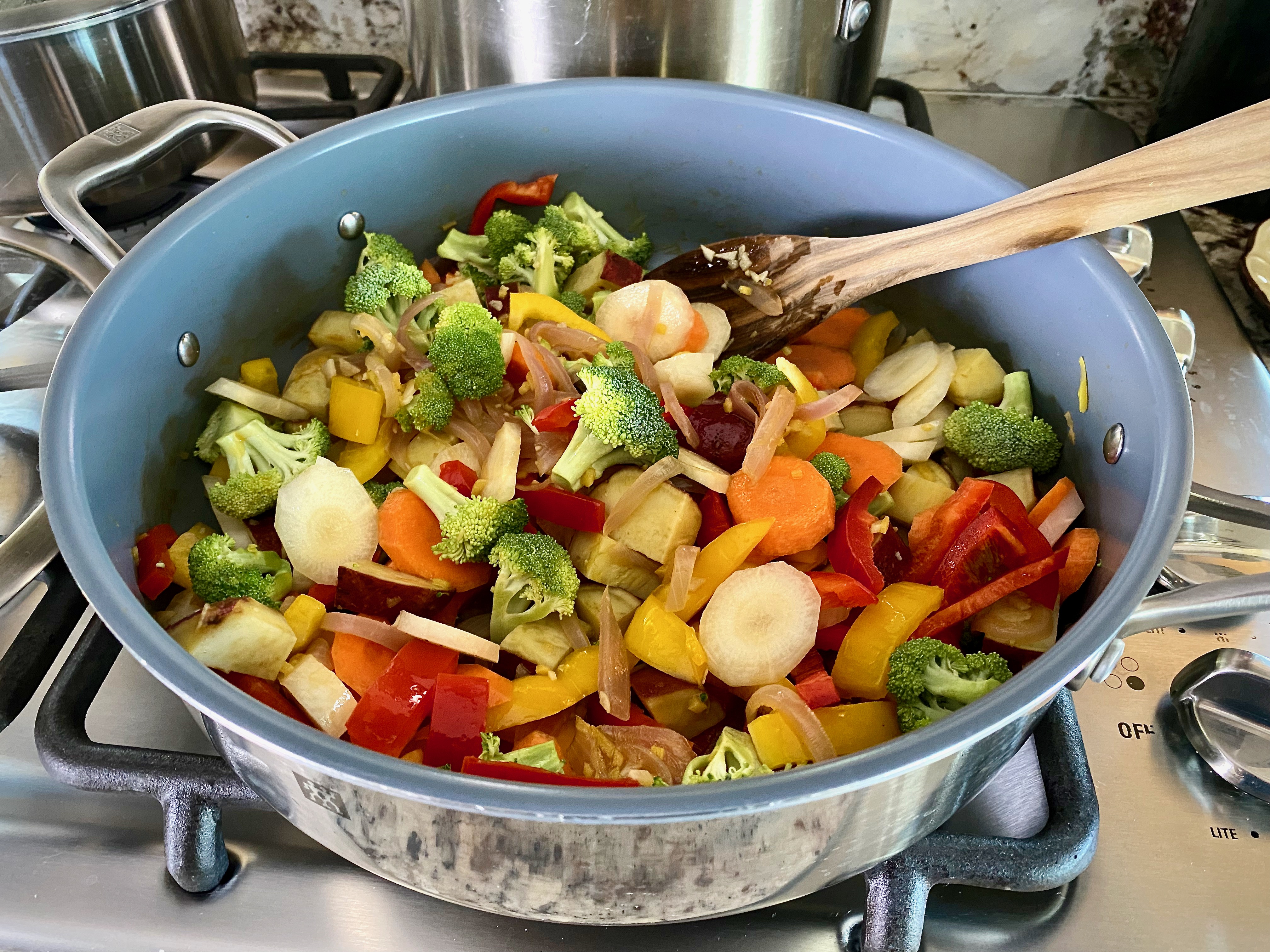 Stir and cook these vegetables for 3 to 4 minutes.
While these cook, this is a great time to make the green curry simmer sauce.
In a blender, combine the remaining vegetable broth, lite coconut milk, low-sodium soy sauce (or tamari or coconut aminos), Thai green curry paste, and lime juice. If you like it spicy, add red pepper flakes to taste.
Note: I like my curry somewhere between a mild and medium spiciness level, so I add ¼ tsp of red pepper flakes. If you're unsure how much to use, go easy at first and start with just a pinch. You can always add more later if you want, but you can't take it out.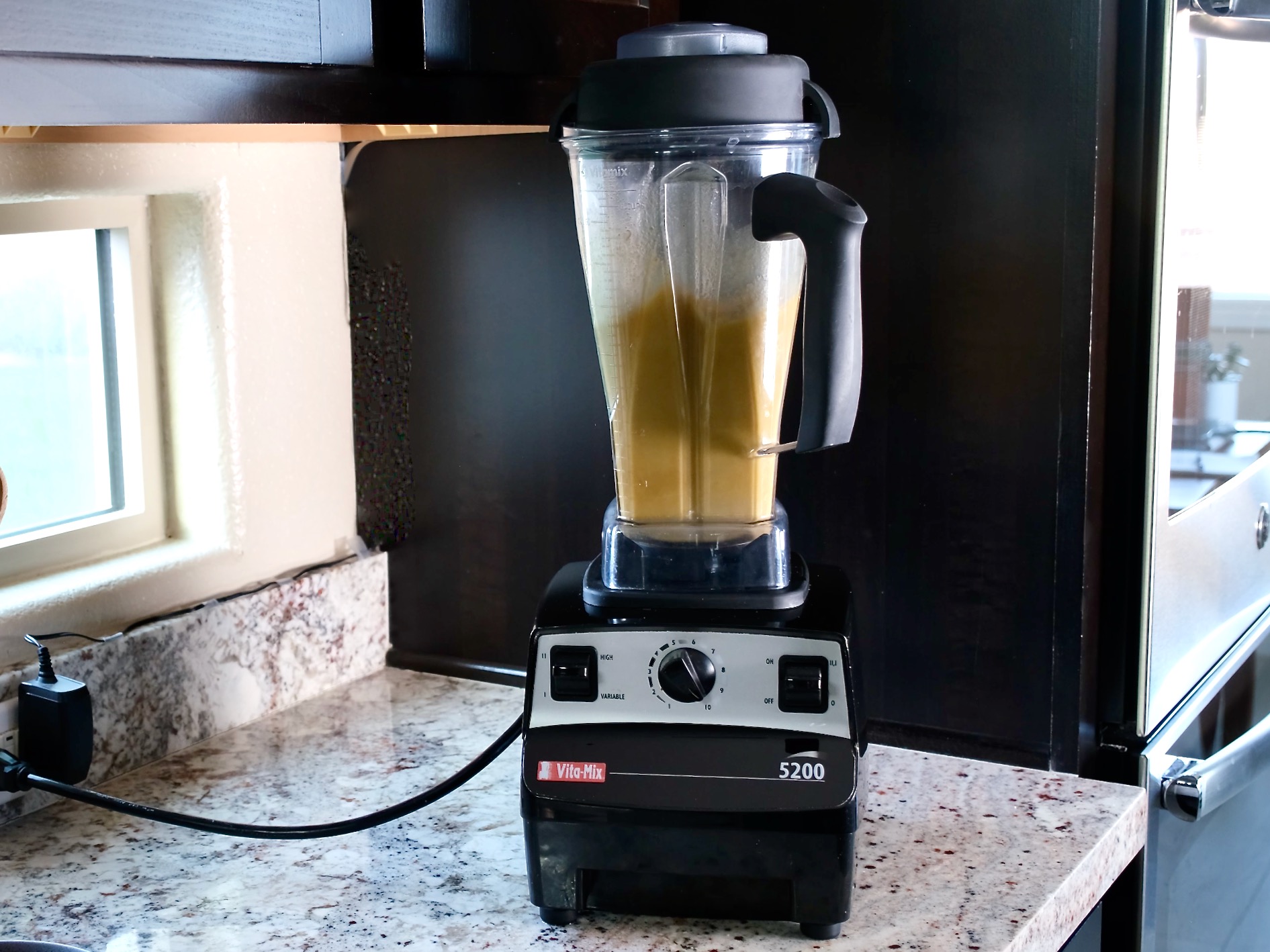 Blend the simmer sauce until smooth, then set it aside for a minute.
When the hardier vegetables have begun to soften (after 3-4 minutes in the pan) add the softer vegetables. In this case, that'll be the shiitake mushrooms and zucchini spears. Stir well.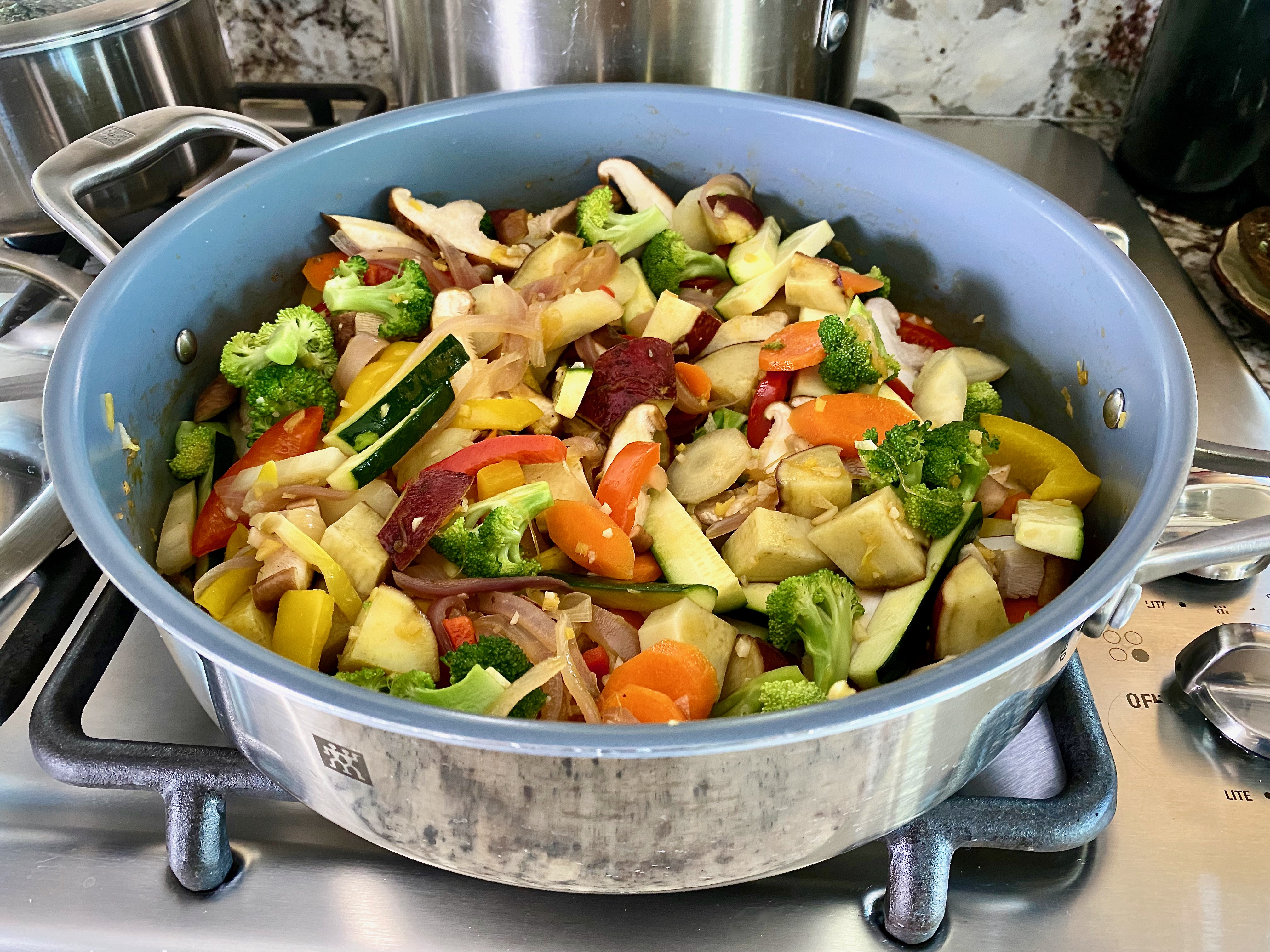 Add the simmer sauce from the blender to the pan. Then add the tempeh cubes, whether they've been steamed in advance or not.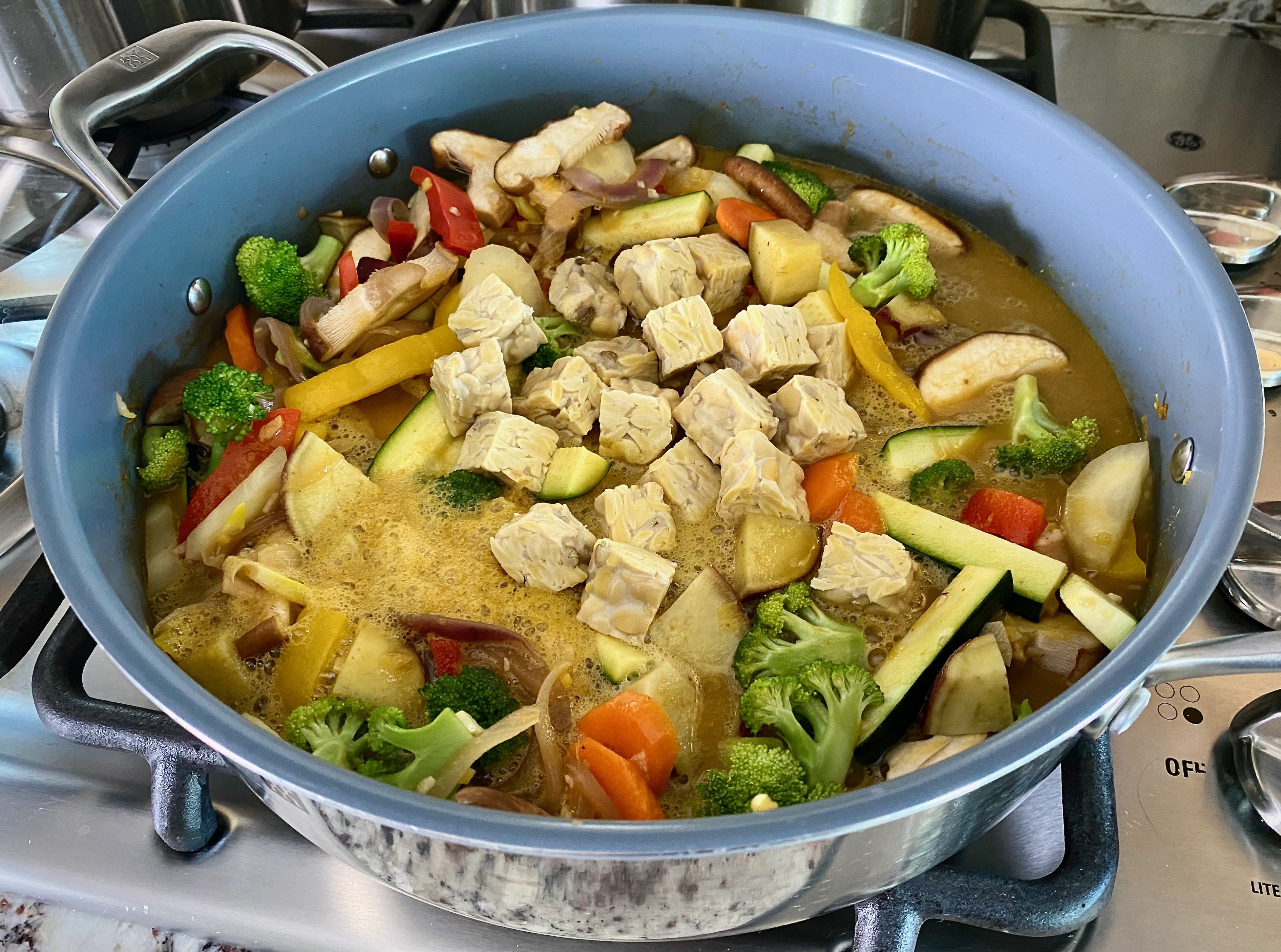 Stir well. Let the vegetables and tempeh simmer in the curry sauce for another 5 minutes. Cover the pan while they cook, and stir occasionally.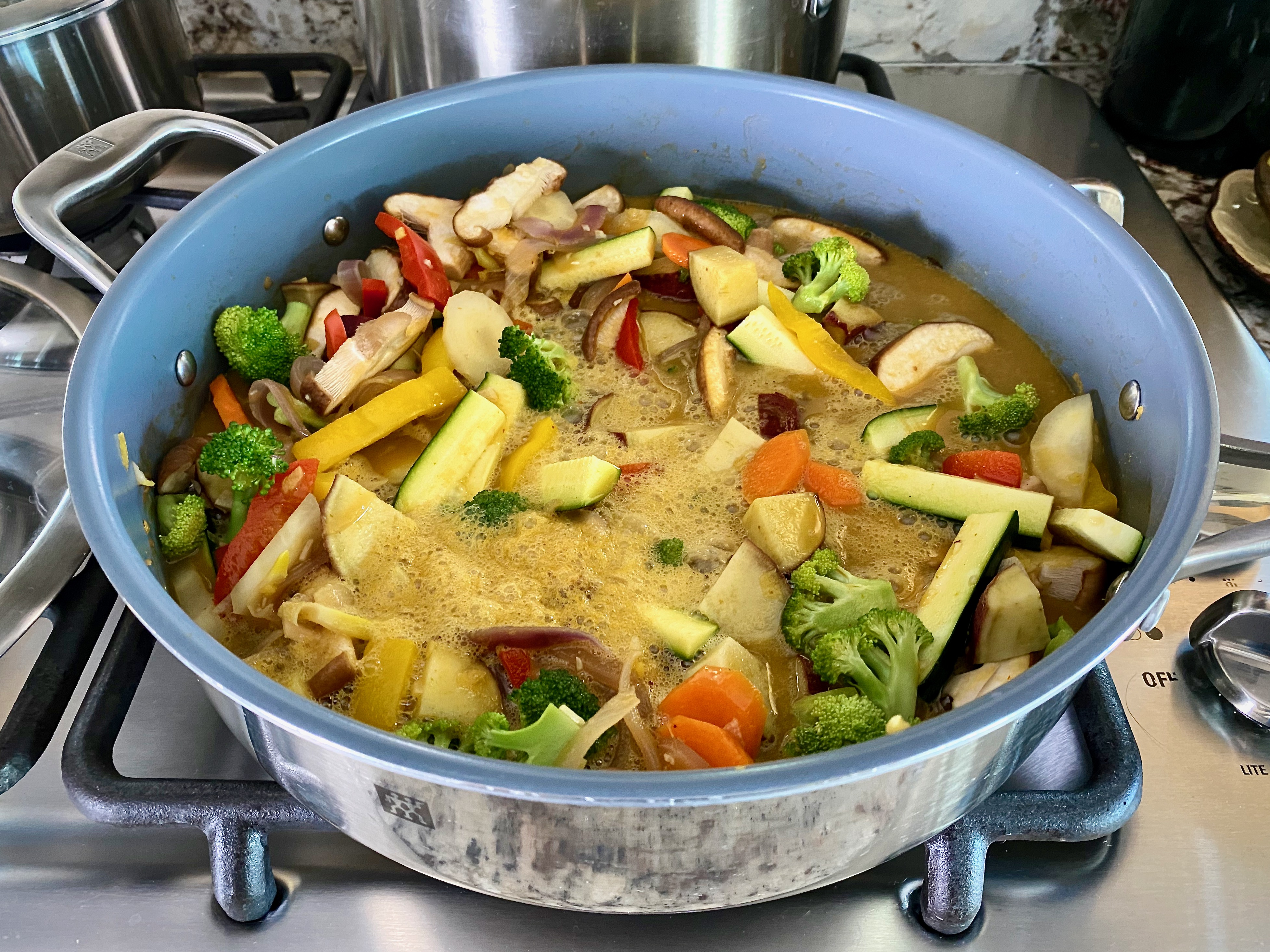 In the last step, add the bok choy to the pan, along with the peanuts (or cashews), Umami Seasoning Blend, and fresh cilantro leaves. Stir until the bok choy has just wilted.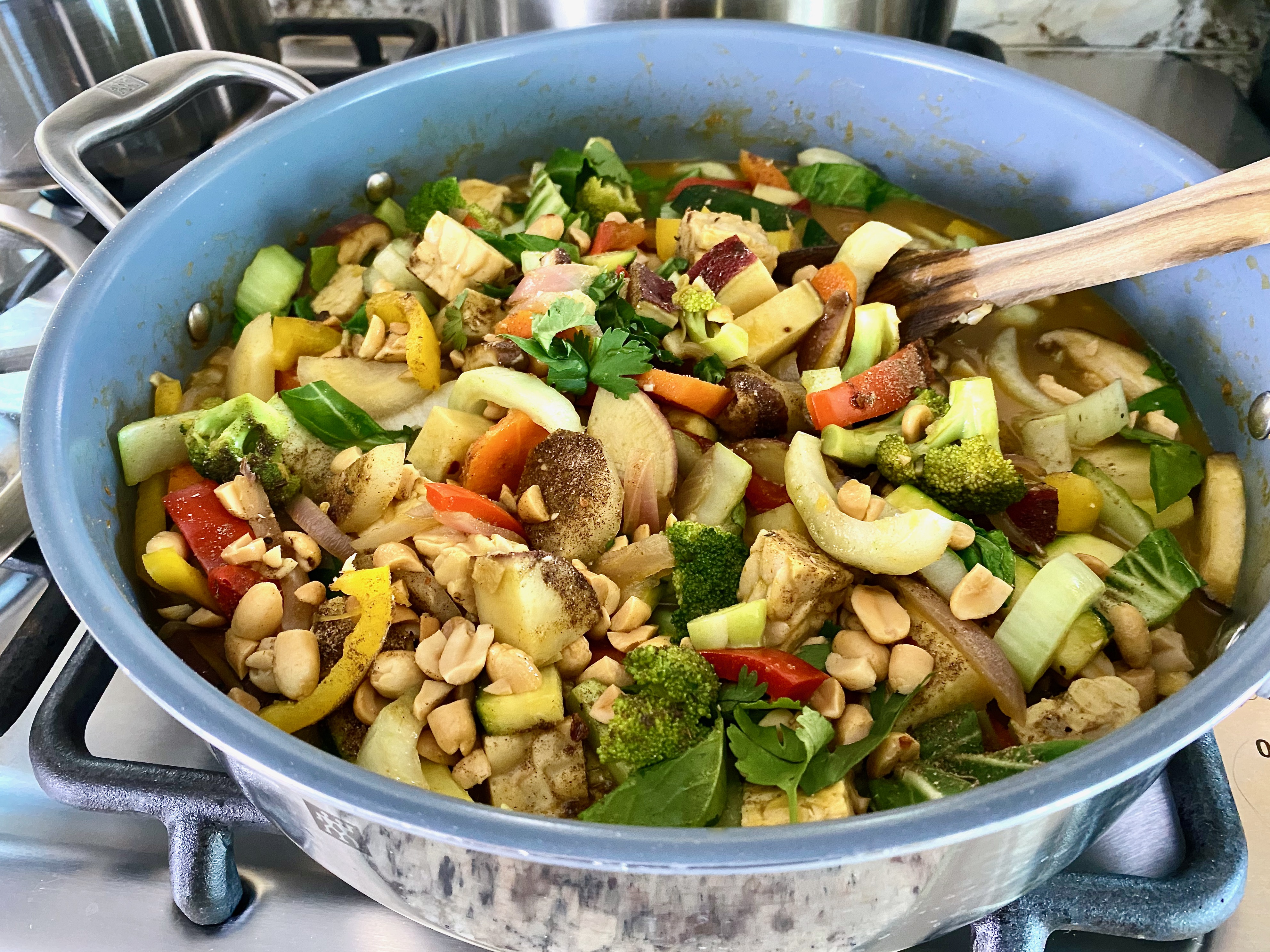 Turn off the heat. The curry is all ready to serve!
Spoon the cooked basmati rice into your bowl or plate, then scoop heaping spoonfuls of the vegetable curry on top of the rice.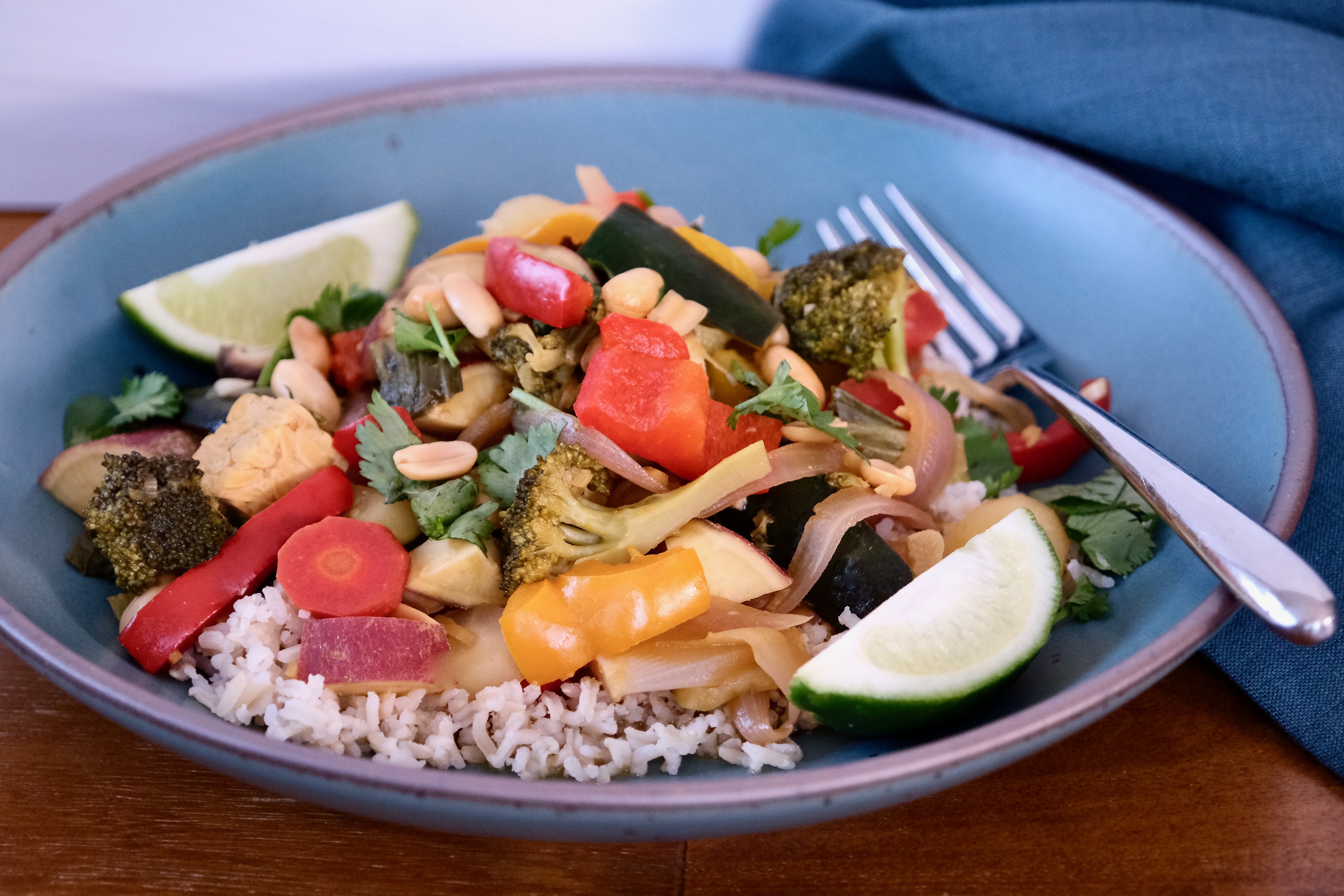 Garnish with a squeeze of lime juice, and a splash more soy sauce (or tamari or coconut aminos) if you wish. Then sprinkle a few more peanuts (or cashews) on top for crunch, and a few more fresh cilantro leaves for garnish.
Serve and enjoy!
Nutrition Information
This recipe yields 4 servings and contains the following nutrients per serving, as written:
518 calories, 16 g of fat, 75 g of carbohydrates, 9 g of fiber, 25 g of protein
What's healthy about this recipe?
Brown basmati rice contains more fiber, phosphorus, zinc and B vitamins than white basmati rice, yet its texture is lighter and the flavor is nuttier than regular brown rice. As a result, it's a winning flavor-and-nutrition combination.
A rainbow of fresh vegetables means a wide variety of vitamins, minerals and antioxidants:
Red onion: Onions in general are rich in the antioxidant quercetin, which fights inflammation and bolsters immune function. They have some cancer fighting properties, and tend to be probiotic, boosting gut health. Red onions have more antioxidants than white or yellow onions, along with excellent flavor, so they're usually my go-to choice.
Ginger: Prized for its anti-inflammatory properties and as a digestive aid.
Garlic: Offers immune boosting, anti-inflammatory benefits, and improves blood pressure by helping the arteries expand.
Sweet potatoes: Rich in Vitamin A and beta-carotene, they support good vision and boost the immune system. They're antioxidant rich, high in fiber, and improve gut and brain health.
Bell peppers: Rich in Vitamins C, B6, K1, E and A, along with folate and potassium, the nutrition info on bell peppers reads like a multivitamin label. They're also high in antioxidants, which means they help protect against chronic conditions like heart disease and cancer.
Broccoli: One of the world's healthiest foods! Rich in Vitamin C, calcium, iron, phosphorus, potassium, zinc, thiamin, riboflavin, niacin, folate and others. The sulphoraphane in broccoli helps control blood sugar, can help stop cancer cells from growing in the body, and helps prevent osteoarthritis.
Carrots: Contribute Vitamins A, K and C, as well as potassium and calcium. They're good for your eyes, improve heart health, and their antioxidants can lower your risk of cancer.
Shiitake Mushrooms: Rich in polysaccharides, which ward off cell damage, bolster the immune system, and help the body produce white blood cells to fight infections. They're also anti-inflammatory, a property that helps prevent multiple chronic diseases.
Zucchini: Rich in Vitamin B6, it can help control blood glucose, and therefore may play a preventive role against the development of diabetes. It's also a good source of Vitamin C, Vitamin A, iron, and calcium.
Bok choy: A cruciferous leafy green vegetable, good at preventing cancer due to its ample quantities of Vitamins C and E, beta-carotene, folate, and selenium. Its fiber content contributes to good digestive health and may help prevent colon cancer.
Tempeh is an excellent source of plant-based protein, prebiotics, and vitamins and minerals like iron, calcium, riboflavin, niacin, magnesium, phosphorus and manganese. Eating tempeh regularly, especially when replacing animal-based protein sources, can help reduce cholesterol levels to promote heart health.