Refreshing Mint Chip Green Smoothie
This smoothie is amazingly delicious. Cool, creamy, slightly sweet, and so satisfying!
The ingredients are wholesome and relatively simple, and the result is pure refreshment.
I'm excited for you to try it!
Have you arrived here from YouTube? If so, welcome!
Below you'll find the complete ingredient list and a summary of my notes on the yummy Mint Chip Green Smoothie recipe in the video.
In case you missed it, I made a YouTube video demonstrating this recipe. Click the video below to watch it (it'll open in a new window), and then come back here to reference the ingredient quantities and instructions.
Hope you love this smoothie as much as I do! I'm pretty confident that you will 😉
P.S. Kids love it too, and it's an awesome way to sneak some spinach into their growing bodies.
Note: Some of the links in this article are affiliate links. If you make a purchase through my link, I'll receive a small commission at no additional cost to you. Thank you for your support!
Ingredients
This recipe yields two 8-oz smoothies. Nutrition info is provided below.
2 Medjool dates, pits removed, soaked to soften
1 cup frozen banana slices (fresh banana will work; adjust ice as noted below)
1 Tbsp

JOI almond base (see notes below)
2 Tbsp plant-based vanilla protein powder (see notes below)
1 cup baby spinach, firmly packed

¼ cup

fresh mint leaves, packed (or more to taste)
1-2 tsp raw cacao nibs (some reserved for garnish, if desired)
½ cup crushed ice (or increase to 1 cup if using fresh banana)
1 cup coconut water
Ingredient notes and substitutions:
No Frozen Bananas?
If you haven't thought ahead to freeze some bananas for this smoothie, no worries! You can use fresh banana instead, and then just increase the amount of ice as noted above, to still give the smoothie a thicker, more frozen consistency.
What is JOI almond base? What if I don't have it?
I have lots of nice things to say about JOI almond base. By design, it's a very fine almond butter that you can blend with water to make your own almond milk at home. But I have lots of other uses for it, too, like in this smoothie.
If you haven't bought yours yet (see below for a discount code), you can use regular almond butter in this recipe instead.
But here's what you should know about JOI:
JOI stands for "Just One Ingredient" and that's blanched almonds. This is WAY better than store-bought almond milk, which often contains binders, gums, and fillers.
The texture of JOI is extremely fine, because they remove the almond skins before blending them into an almond butter, so it's really smooth and suspends easily in water when making almond milk. It also blends really well into smoothies and coffee drinks, tea, chai, golden milk, etc, as well as baking recipes, to give them a creamy texture and flavor.
Let's be honest. Commercially available almond milk is mostly water. So when you buy almond milk at the store, you're paying for them to ship water, basically. Then there's the packaging. So making almond milk at home from a small glass jar of almond base with filtered tap water is better for the planet.
If you've ever opened a bottle or box of almond milk but were unable to finish it before it perished, you'll be happy to know that JOI is shelf stable. You can make only the almond milk you need for the next few days and refrigerate that, while the rest of the almond base stays good in the pantry for up to 18 months.
This is exciting! Because I'm a brand ambassador for JOI, if you use the code GREENSAGELIFE at checkout, you'll save 10% on your order.
It tastes amazing. Enough said, right? Grab a jar for yourself, and while you're on their website, peruse their other cool products. For example, I buy their organic cashew base, too.
Is protein powder necessary? What brand do you recommend?
To be clear, supplementing with protein powder is NOT necessary on a whole food, plant-based diet.
I personally like to add it to my smoothies because I appreciate the flavor and creamier texture it contributes.
However, you can totally skip it if you prefer, or add 1 Tbsp of hemp seed and a splash of vanilla extract in its place, for a similar effect.
But if you just finished a workout and you want to time this smoothie to coincide with your recovery and get an extra protein boost, it'll be nice to include it. You might even double the amount to a full quarter cup (one whole scoop).
I have a clear favorite brand of plant-based protein powder.
Truvani Vanilla Plant-Based Protein Powder has a relatively pure list of ingredients, and the flavor the best I've ever tried, hands down.
I frequently add it to smoothies and baked goods. They also have a chocolate version that's out of this world.
I'm not affiliated with this company, but I'm a big fan of their products.
Mint Obsessed?
If you'd like your smoothie to be mintier, you can add more fresh mint leaves, of course.
Another idea would be to add a few drops of food-grade peppermint essential oil to the blender, or a tiny splash of peppermint extract, which you can buy in the baking aisle of most supermarkets near the vanilla extract.
Does the liquid have to be coconut water?
Not at all. I like to use coconut water because it adds extra nutrients like potassium, magnesium, and calcium. But you could just as easily add regular water or a plant-based milk of your choice.
Now let's make the smoothie.
Instructions
1. Place two pitted Medjool dates in a heat-proof bowl and cover them with hot water. Let the dates stand in the hot water to soften for 10 minutes, then drain away the soaking water.
2. Slice your frozen (or fresh) banana. Add the slices to the blender bucket, along with the softened dates.
3. Add the JOI almond base (or almond butter) to the blender.
4. Add the vanilla plant-based protein to the blender.
5. Add the baby spinach, fresh mint leaves, crushed ice (half cup of ice if you used frozen banana; whole cup if you used fresh banana), and raw cacao nibs (reserve some as garnish if you wish).
6. Add a cup of coconut water, and then blend all the ingredients together. Begin on the slowest blender setting, and gradually increase the speed until you've reached the blender's highest speed. Blend until smooth.
7. Transfer the smoothie to two 8-oz glasses. Garnish the glass with a sprinkling of the reserved cacao nibs and a couple of fresh mint leaves, if desired.
8. Serve with a reusable straw.
Enjoy!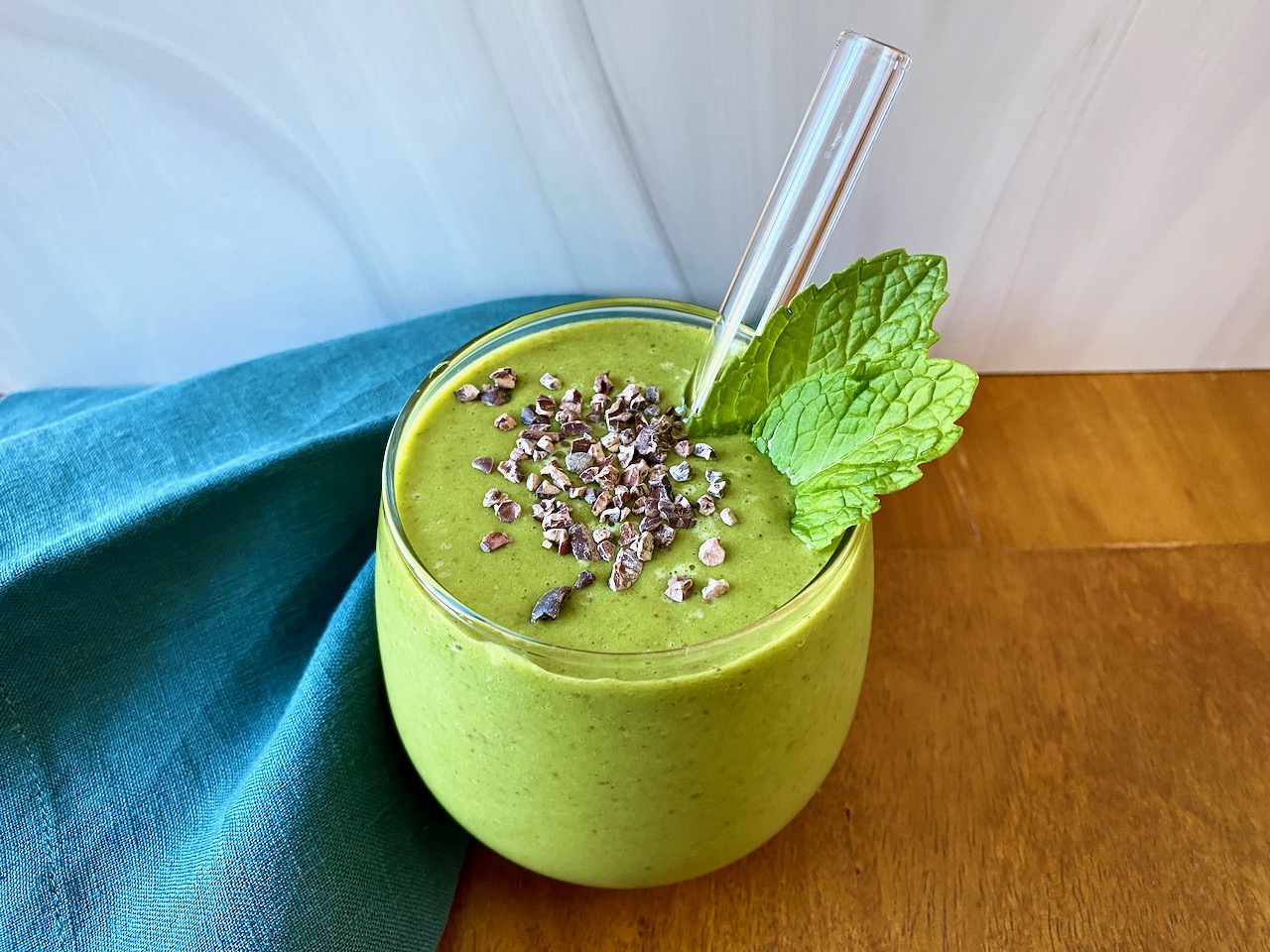 Nutrition Info: This recipe yields two servings. One serving contains 256 calories, 6 grams of fat, 45 grams of carbohydrate, 6 grams of fiber, and 9 grams of protein (unless you choose to increase the protein powder to a full quarter-cup scoop, in which case you've got 288 calories, 7g of fat, 46g of carb, 7g of fiber and 14g of protein per serving).
I want to be clear that I don't usually count macros. I don't find it necessary to follow them daily with my whole food, plant-based lifestyle, because I'm confident I'm getting the nutrients I need. However, I know when I talk about workout recovery and protein that some people will come for that and be curious about nutrient counts to support their athletic, body building, and/or weight loss efforts, and this is why I've chosen to provide that information for this particular recipe.
What's healthy about this recipe?
Plant-based protein: The exact amount will depend on how much plant-based protein powder you chose to add. But the banana, spinach, cacao nibs, almond puree and dates all contribute some, too. That's right! All fruits and veggies have protein, so don't worry so much. You're getting what you need from plants.
Spinach is a great source of vitamins K and A, manganese, folate, magnesium, iron, vitamin C, vitamin B2 and calcium. In this recipe, we're sneaking it in to enhance the beautiful green color and nutritional value (but you won't taste it!)
Fresh mint leaves provide a nice dose of Vitamin A, iron, manganese, and folate, as well as a huge antioxidant boost.
Bananas contribute Vitamin C, copper, potassium and magnesium. Its fiber content can aid with digestion and elimination, as well as to help maintain healthy blood sugar, cholesterol and blood pressure.
Coconut water is a natural source of electrolytes to help keep you sufficiently hydrated, as well as Vitamin C. It's often referred to as nature's Gatorade. I love to use it as the liquid in all my smoothies.